Around the holidays life starts to feel pretty chaotic. There are last minute gifts to buy (always for that family member you have no idea what to give), there are arrangements to finalize (like switching a flight, boarding your dog, e-mailing your professor about a grade), and so many detail oriented tasks to complete. Saturday I forced Jordan not to make any plans for us so we could spend the day leisurely running errands together without the stress of skiing or a Christmas party or dinner with friends. I'm cheesy so I forced us to refer to our Saturday together as the "Jordan & Jordyn day of Love". You don't realize how much fun it is to date someone with the same name as you until you start coming up with weird hashtags and events titled after the two of you. I definitely suggest dating someone with your name at some point if you ever have the chance (if only to confuse people)!
Strangely, we found ourselves car shopping in Tacoma. Neither of us needs a new car, but Jordan is really addicted to cars, so though we didn't walk away with anything it was actually pretty fun to test drive all of the different models available. I'm one of those people that would drive an old beat up car forever if it meant I could wear Manolo Blahnik heels and runway ready dresses. New car? I'll take a quilted Chanel bag instead pretty please! Everyone has their vices right?
Along the way we stopped at the beach for a refreshing whisk of sea air. Seattle offers fairly moderate seasons but I still don't suggest a beach day in December unless you're really bundled up. I threw on the Gentle Fawn Wrangler flannel (so cozy) with my favorite pair of white jeans (they're old but preserved thanks to bleach pens), my over the knee boots (which as you can see I've been wearing constantly) and the warmest Alice & Wonder hat.
I'm pretty girly, so when it comes to wearing flannel I try to steer away from a look that seems super outdoorsy. I don't wear very much makeup so a flannel shirt can become VERY granola VERY fast if I'm not careful. I was in the mood for breaking a few rules so white denim seemed fun and surprising for December and I couldn't resist adding a beanie and boots for added warmth (and style).
I think the result was perfect for running errands, faux-car shopping, frolicking around the beach (before quickly frolicking back to the warmth of the car) and ultimately feeling both comfortable and presentable on a busy winter day. Overall the essence of Gentle Fawn is a great blend of casual durability and wearable style. Gentle Fawn pieces never feel out of place outdoors which for me is critical (I get so stir crazy if I'm forced to stay inside all day, even in the winter).
The week before Christmas is such a whirlwind of activity. I know the next few days I'll be struggling to balance professional responsibilities, social obligations and personal care all while attempting to enjoy every last moment of the fleeting season. It was nice to pause and breathe the ocean air with the man I love. Christmas will be here before we know it! On Christmas day we're driving to California (Pierre's first road trip) and New Year's Eve will be here before I can even fully process Christmas season.
2016 holds a few big changes for my life. I am excited to share when the time is right. For now I'm really tying to use every spare moment to reflect on 2015, it's been such a monumental year for me. I can't even begin to imagine what the next twelve months hold.
---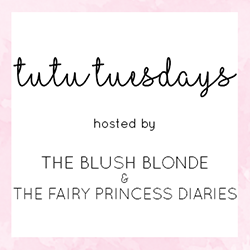 Welcome to Tutu Tuesdays a linkup with
The Blush Blonde
and 
The Fairy Princess Diaries
!  Linkup whatever you'd like and make sure to do a little mingling – our goal here is to create a community of bloggers where we can all connect, find new blogs, and support one another.  We 
love 
new friends, supporting other blogs, and meeting fellow girl bosses!
There are just a few rules we ask you follow to join in on Tutu Tuesdays:
1. Please follow both Kristin and I, your lovely hosts, on Instagram and/or Bloglovin.
2. Link to your specific post, not your blog's main page.
3. Grab our super cute button or share a link to Tutu Tuesdays in the post you are linking up so everyone can know about the party!
4. Have fun and mingle with other bloggers that have linked up!  Like I said we want everyone to make new friends!