Have you ever had a friend that made a stupid decision? You must have! Likewise, we've all been the friend making the stupid decision. Part of being a human is making bad choices sometimes and learning from the consequences. Similarly, there are days when it is best to bite your tongue and let a friend make a bad choice because it is their bad choice to make. Recently I've thought a lot about what it means to be a friend. I realized part of being an adult is allowing your friends to make decisions you don't necessarily agree with and learning to be okay with it. For the most part I can disagree with a friend's choices and opinions but still respect their decisions. Great minds often think differently.
The phrase "Where there is smoke there is fire"generally refers to a plethora of evidence supporting a statement to be true. When one anonymous stranger comes forward and says "your boyfriend was flirting with me while you were dating" a reasonable person would call that statement "kindling". When you find your boyfriend's active Tinder account and a list of matches he's been chatting with, I'd call that some "serious smoke". When all of these things happen, random women reach out to you Tiger and Elin Woods style saying your boyfriend cheated…you're no longer staring at smoke, you're watching your house burn down. At some point if you can't admit there is a fire you're living a delusional fairytale.
Without going into too much detail I recently felt a moral obligation to confront a friend about a decision she was making. I'd bit my tongue for months, resolving that I wouldn't agree with all of my friends' decisions all of the time and that was alright. There have been plenty of times I disliked friend's boyfriend, disagreed with a career choice or rolled my eyes secretly at a bestie's belief or opinion.  Eventually, in this specific instance, I hit a breaking point. I could respect my friend's individuality and right to make her own decision no matter what, but I could not consider myself a good friend without presenting her with new information and in turn inevitably sharing an opinion on a big life decision she was making.
From the moment I decided I would talk with my friend about the information weighing on my conscious I faced a sinking feeling in my stomach. I couldn't share what I had been confronted with without feeling involved or gossipy, so I planned and replanned how I would speak to her in a way that didn't feel catty but instead concerned. Almost all of me knew she would use the information against me rather than understanding I was simply saying what I felt I needed to say with her best interest in mind but I also knew that morally I wouldn't feel okay saying nothing.
I would never claim to be perfect. I am a flawed individual. I have a flawed relationship and I strive to display these imperfections and authentic emotions in this space and in my day to day life. By identifying a friend's relationship as toxic it is never my intent to claim my own relationship is a fairytale. I love Jordan with all of my heart, I have never been so happy in a relationship, never so in love, never so hopeful about the future that being said we still get into arguments. I still overanalyze things he says to me. I roll my eyes and act sassy and immature if one of his exes texts him or "likes" an instagram photo. I like to think I've learned more about love and relationships from every first date, "I love you" and the tears from each breakup, but I would never claim my relationship is flawless or attempt to compare someone else's relationship to my own.
My relationship having flaws does not make a blatantly toxic relationship good. Likewise it's important to keep in mind, having a friend whose relationship is "worse" than yours doesn't make your relationship right either!
Without comparison some relationships are so obviously toxic to the outside world. Having been in a toxic, abusive relationship before I feel it is a moral responsibility to other women, and to myself, to say something when I believe a friend is in emotional or physical danger. To me, being a friend means the ability to share an idea or opinion and knowing that another friend may disagree with you without disowning you. Being in an adult friendship means that I can be raw and vulnerable about my feelings with a friend and even if that friend disagrees with my opinion I will respect their decision (because I respect their autonomy and insight) and they will respect me as a person.
I've read that you learn a lot about friendship when you are lonely, and in this instance, I am choosing to use this goodbye as an opportunity for mental growth. I will never be happy about loosing a friend, especially in a way that feels abrupt and confrontational, but I am happy to further define what friendship means to me as well as the kind of friends I want in my life.
I do not believe in wasting time in shallow relationships or superficial people. While all people can get lost in love or in the nativity of frivolity, vapidness is a trait I cannot tolerate. I still wish the best for the friend whom I parted ways with. I don't believe in holding a grudge or wishing ill-will towards someone I love but if you have lost respect for someone it isn't right to continue a friendship. I want to surround myself with people who inspire me, who add depth and character to a conversation, people who challenge my beliefs and ideas, people who will tell me if I am dating a total d-bag and will respect my voice even if they choose not to agree with it.
Have you learned any important lessons about friendships in your life? How do you handle loosing a friend? What sort of qualities do you need in a close friend?
---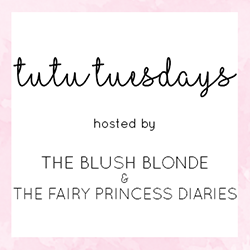 Welcome to Tutu Tuesdays a linkup with The Blush Blonde and The Fairy Princess Diaries! Linkup whatever you'd like and make sure to do a little mingling – our goal here is to create a community of bloggers where we can all connect, find new blogs, and support one another. We love new friends, supporting other blogs, and meeting fellow girl bosses!
There are just a few rules we ask you follow to join in on Tutu Tuesdays:
1. Please follow both Kristin and I, your lovely hosts, on Instagram and/or Bloglovin.
Kristin: The Blush Blonde | Bloglovin' | Instagram
Jordyn: The Fairy Princess Diaries | Bloglovin' | Instagram
2. Link to your specific post, not your blog's main page.
3. Grab our super cute button or share a link to Tutu Tuesdays in the post you are linking up so everyone can know about the party!
4. Have fun and mingle with other bloggers that have linked up! Like I said we want everyone to make new friends!