Hello, my name is Jordyn and I am a recovering shopaholic. Okay, that intro sounds a bit cheesy and possibly a tad dramatic. I certainly don't mean to poke fun at addiction, but it's time to confess, I have a shopping problem. I never thought I would be writing this post. I never thought I'd voluntarily choose to give up shopping for any dedicated period of time. I read about bloggers who gave up shopping for 30 days or 90 days or a year. Of course I could go without making any new purchases for a month or two but why would I want to? I couldn't fathom giving up something that brought me so much happiness, at least not voluntarily. You're talking (er, reading) to the girl who has over drafted in her bank account not once, not twice but three times for a pair of shoes. I realized shopping was one of the few activities I would rather do alone because I didn't like the idea that people were judging me for my purchases. Why is that you ask? Because I didn't want to be held accountable for making stupid decisions. You're talking to the girl who manically blew her paycheck and vowed to live off "date meals" for a week so she could buy a cute sequined skirt and new earrings for her birthday party. The aforementioned girl is no more, I've officially committed to a financially responsible lifestyle (gasp)!
Not all of my spending habits were so over the top. Sure, I did splurge on shoes that amounted to more than my rent but mostly I treated myself to pieces I could afford but didn't need. Hey Target! Hey Forever 21! In someways these affordable pieces were the worst because so many times I justified buying items I wasn't in love with just because they were "affordable". Tell me, what is the point of a closet filled with pieces that make you think "eh…it's alright".
When Carrie Bradshaw referred to herself as literally being the "woman who lived in a shoe" nothing resonated deeper with me. Despite years of financial irresponsibility I never felt too remorseful. Certainly, I felt guilty when my spending habits effected others but as for the turmoil my recklessness caused in my own life…I chopped up to "who I was". It felt like such a big part of my identity stemmed from curating an outfit that fit every occasion.
After each trip the mall or a department store I found myself fantasizing about all the ways a particular object of my affection would make my life better. I pictured myself strutting around campus in a pair of Tory Burch riding boots until it made me cry. I couldn't imagine stepping into a New Year's Eve ball without a golden pair of Manolo Blahnik heels. When I started my first ever office job I obsessed over finding the best brown, leather tote to carry my planner and pens.
This "fashion as a source of my identity" mind frame continued year after year without ever really realizing how self destructive it was becoming. The thing was the pieces I obsessed over usually didn't make my life better the way I thought they would. Sure, there have been a few splurges that really do make me smile each time I wear them (Stuart Weitzman boots!!!) but to be honest most of those pieces have been gifts. More often than not, the guilt that arrives shortly after my post-purchase shopping high lingers for far longer. What good is it to have a pair of gorgeous shoes if you're too afraid to cartwheel in them for fear of scuffing them up? What's the point of pretty heels that prove impossibly difficult to walk in? I might as well have invested in an expensive closet decoration.
As if I'd fallen down Alice's rabbit hole to wonderland and only realized I bumped my head years later…I discovered all of the shopping wasn't making me happier. There wasn't a fairy godmother moment, or glitter that fell from the sky and transformed me, no one sat me down and lectured me about finances or gave me a shopping ultimatum. No intervention, no "AHA" moment, just a bit of growing up and a few credit card bills. Day after day my mind set changed slightly until I was finally able to admit to myself I needed to make a serious lifestyle change.
Somehow I believe working in fashion has helped me to stop obsessing with it. Perhaps thinking about clothes all day has caused me a disinterest in thinking about clothes during my free time, or maybe I've just matured and realized how much I want in life besides clothes. I want to buy a home someday. I want to go to graduate school. I want to travel the world. I want to get married. I want an unexpected bill to not always send me into a dramatic whirlwind of emotion. Wishful thinking? Maybe I just want to be an adult about money?
New shoes still put an extra pep in my step but they aren't my reason for living. Looking at my life I am less lonely, less frightful and more secure in my relationships than I ever have been. I don't feel like I have to hide anything about who I am. I'm not in a toxic relationship. I feel surrounded by true friends. I am in a good place with my loved ones. While I am hesitant to label most correlations as causations (ha, thanks LSAT), I can say with certainity these two variables are undeniably related. My life is far from perfect, but there aren't any huge gaping holes that make me feel sad, unfulfilled or hopeless. Consequently, I'm not hopelessly attempting to fill the holes in my happiness with shoes.
It would be a wild exaggeration to say I still don't lust after luxurious handbags and chic fall jumpers and stylish boots. Appreciating fashion and personal style truly is part of my identity but emotional shopping doesn't have to be. I still adore fashion but for once in my life I can honestly say I would rather see money in my bank account than on my feet. I know life isn't always going to be smooth sailing; falling back into my preferred form of self-medicating (retail therapy) will be tempting. However, it is my intent to use this new found knowledge to arm myself for success and to make more conscious purchases moving forward. Shopping can be an occasional fun hobby rather than a way to postpone real emotions and real problems.
---
Don't forget to link up with Kristin & I for Tutu Tuesday. I can't wait to read your posts <3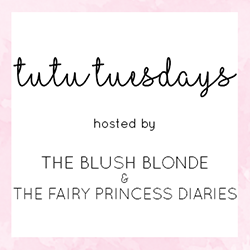 There are just a few rules we ask you follow to join in on Tutu Tuesdays:
1. Please follow both Kristin & I, your lovely hosts, on Instagram and/or Bloglovin.
Kristin: The Blush Blonde | Bloglovin' | Instagram
Jordyn: The Fairy Princess Diaries | Bloglovin' | Instagram
2. Link to your specific post, not your blog's main page.
3. Grab our super cute button or share a link to Tutu Tuesdays in the post you are linking up so everyone can know about the party!
4. Have fun and mingle with other bloggers that have linked up! Like I said we want everyone to make new friends!