Half way through August it's inevitable that I begin to fret summer's end! Though Seattle was gorgeous this spring most of July felt pretty anti-climatic, there were far too many gray days and cool temperatures. I am a total summer girl, I cannot get enough of the sunshine. Luckily the past few weeks the city has brightened up and this weekend I seized every opportunity to play outside.
After a week in the office (albeit with a view) I yearn for fresh air and sunshine! Get this girl on a hike or to the beach pretty please! I know for a lot of people (especially on the East Coast or in the South) school is starting but over here in Seattle it's still full on summer mode. I am SO not ready to talk about fall even if Halloween is my favorite season (;
I'm determined to cherish the next few weeks of summer. Summer isn't technically over until September 22nd and you won't catch me packing up my summer sun dresses until the 23rd! Summer style is still where it's at as far as I'm concerned.
Summer weekends are a very special type of magical. As someone who adores being outside the overabundance of choices is completely overwhelming. Should I paddle board? Find a new hike? Lay out on the beach? Rent a canoe? Or maybe just research a new brunch spot with outdoor seating? There is never enough free time to complete all of the summer activities my heart yearns for. This weekend we opted for a day on the boat with Jordan's family.
Growing up my family did not embrace boat culture. I don't quite know why but my Mom seemed to hate going on boats! I will take any excuse for a day in the sunshine and this Sunday's adventure did not disappoint. We boarded on Alki beach in west Seattle and cruised over to Bainbridge island where we enjoyed a nice walk and a generous serving of gelato. I have to say gelato is one of life's greatest pleasures!
After our time on Bainbridge island we spent a few more hours cruising around before docking at shoreside restaurant called Maggie's Bluff. We watched the sun set with good food and joyful company. Jordan's niece and nephew could not have been cuter, though Jordan and I both laughed about how much work kids are. Definitely another 10 years before I'm ready for the madness (and cuteness).
As we sped through the waves back to Alki the city skyline glistened in the twilight sky. Using not one but two beach towels as blankets to keep me warm and forcing Jordan to snuggle me for extra wind protection I was overwhelmed with happiness. What could be better than a beautiful day spent with kind, loving people? Messy, windblown hair and smeared makeup could not have mattered less! It means so much to me that my boyfriend's family is so welcoming and warm. Happiness and love all around!
Do you have an ideal summer day in mind? How do you dream of spending summer weekends? Any summer activities I MUST try before the season's over? xxoo!
---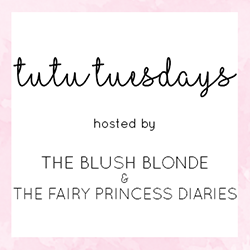 Don't forget to link up with Kristin & I for Tutu Tuesday this week. I love reading your posts <3