Unequal pay for equal work is not a new conversation. It is well known that women often do not make the same salary as their male coworkers for doing the same job (!!!). As a young woman in your early career it is important to understand your worth. For your first couple of years out of college it may be difficult to determine the actual salary you should be receiving. On one hand you want to make as much as possible (hello, student loans), on the other you're just grateful to be employed and earning more than you did at your college nannying job. Where is the balance?
Negotiating a salary offer can be scary! I used to cringe at the idea of stating my desired pay rate (even to a babysitting client), I worried I would turn off employers if my rate was too high. I worried I seemed conceited or demanding or self important. News flash! You are important and your skills are valuable. Arm yourself with the latest research on your industry and the going rate for your position. Knowledge is power! Asking for a fair rate doesn't make you presumptuous or overly ambitious, it makes you confident and well informed.
Studies show a woman is less likely to negotiate a job offer than her male counterpart, and while landing a job offer is exciting you usually shouldn't accept a company's initial offer. There are many reasons to accept a job offer for less than the industry standard (unconventional perks/benefits) but you unless you receive your "out of this world dream offer" right off the bat, you should take an initial offer as a starting point for negotiation.
Why you should Negotiate your Salary:
1. The first offer isn't maximizing the company budget.
Remember to think strategically when discussing salary with a new company. Most companies have a budget they're looking to stay within when hiring a new employee, and chances are they aren't going to offer you their top number right away. Most companies expect candidates to negotiate meaning they won't offer you the most they are willing to pay you right away.
2. Knowing your worth displays confidence.
By setting a rate you are comfortable with you show a company you are confident in your ability. An intern who is learning the ropes won't ask for a salary increase, an employee with experience and confidence will know their worth.
3. Statistics show women don't negotiate as much as they should (even though men do).
One reason women earn less than men (though admittedly not the only reason) is that women are less likely to negotiate an initial job offer. Your male coworker may earn more than you simply because he asked.
4. Salary gaps continue to grow over time.
It only makes sense that as your career continues the gap between what men earn and what women earn will continue to grow. Because you asked for $x amount a year and your male coworker asked for $x+$1000 he will continue to grow.
5. The worst a company can say is "no".
I realize "no" can seem scary (trust me, it's scary for me too). Take a deep breath and remember you aren't chatting with your best friend, you are negotiating with a business. Whether you work as a teacher, a researcher, a sales associate or a social media coordinator there will be times you need to be bold. Bold is part of business! By reminding yourself that "no" from a company does not mean "we think you're a horrible person" but probably just means "we genuinely don't have the budget for what you want" is a great way to ease your nerves.
How to Negotiate your Salary:
1. Do your research!
Use resources like Glassdoor to learn more about the going rate for your industry in your city and state. Do your research based on your experience and skills. This information will help base your negotiation in quantifiable data!
2. Highlight your skills and value!
Do you have more experience than your competition? Do you choose to continue your education? Do you know how to use valuable programs that can aid your day to day job or assist your boss? Outline why you are worth the salary you want! It's not enough to ask for a higher salary because you have expensive taste in shoes or thousands in student loans (in fact, do not under any circumstances bring this up). Put yourself in your employer's position and answer "what makes me worth paying more?".
3. Be prepared to defend and discuss your points!
Don't do your research and analyze your skills just to transform into a meek mouse when it's time to negotiate. (I'm officially making meek mouse a thing). You'll notice a theme in salary negotiation and that is boldness. Continue to be bold! Use your research in your negotiations whether you are sending an email, written letter or discussing in person.
4. Read your negotiation letter aloud.
If you are writing out your negotiation letter it doesn't hurt to read the letter to a close friend or family member. Are you accurately highlighting your worth. As women we often undervalue ourselves. A friend or loved one can help "talk you up" without becoming too self-obsessed.
5. Be gracious and enthusiastic.
Negotiation should never mean sacrificing tact, grace and respect. You should let the employer know you are excited about the idea of working for their company, if the position is your dream job don't be afraid to say so. Your employer will respond to polite negotiation while rude behavior is likely to lose you the initial offer.
Have you ever negotiated a job offer? Do you have any tips for beginners?
---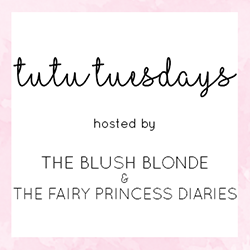 Welcome to Tutu Tuesdays a linkup with The Blush Blonde and The Fairy Princess Diaries! Linkup whatever you'd like and make sure to do a little mingling – our goal here is to create a community of bloggers where we can all connect, find new blogs, and support one another. We love new friends, supporting other blogs, and meeting fellow girl bosses!
There are just a few rules we ask you follow to join in on Tutu Tuesdays:1. Please follow both Kristin and I, your lovely hosts, on Instagram and/or Bloglovin.
Kristin: The Blush Blonde | Bloglovin' | Instagram
Jordyn: The Fairy Princess Diaries | Bloglovin' | Instagram
2. Link to your specific post, not your blog's main page.
3. Grab our super cute button or share a link to Tutu Tuesdays in the post you are linking up so everyone can know about the party!
4. Have fun and mingle with other bloggers that have linked up! Like I said we want everyone to make new friends!