Sunday morning I woke up feeling grumpy I wouldn't have time to "get ready" before Jordan and I met his friends for brunch. I was in one of those "moods" that made every little inconvenience feel like a travesty. None of my clothes seemed to fit me right. My hair was greasy and no amount of dry shampoo seemed to fix it. Oh, and heaven forbid Jordan try to tell me we would not have time to stop for coffee on the way to brunch…because I couldn't wait until we actually got to the restaurant. Bratty and overtired I stumbled into Starbucks and scrolled through the news on my phone while waiting for my drink.
When I read about the Orlando shooting my petty nonsensical issues melted away. I felt nauseous; as I grow older violence affects me more. The headlines and witness accounts from the weekend are haunting. Imagining the families of any victim of any act hate or terrorism breaks my heart. I am so fortunate that my family and friends are safe and accounted for, yet, it is these terrible events that remind us every single day is an uncertain gift. When I read about events like the shooting in Orlando where so many innocent people were killed, I can't help but wonder…how does the world keep going on? Each day we witness new tragedies, our hearts break as the world proves it is filled with so much hatred. Life must go on though. Despite the brutality of the world we still hit snooze on Monday morning, or giddily make happy hour plans for the evening. I still day dream about new shoes and far off destinations and worry about saying something embarrassing or socially awkward. It's as if the world is shaking viciously and we must pretend not to feel it.
I could never pretend to understand the pain of the mothers who lost their children, the sisters who lost their brothers, men and women whose significant others were taken- that sort of pain I have not experienced. Reading through the names and brief descriptions of the Orlando shooting victims I am both saddened and enraged. An 18 year old high school graduate lost her life, a twenty-something's last legacy is featured on Snapchat as the shooting begins, life after life is summarized in a few brief sentences and it's hard not to wonder who these people were and what they dreamed and aspired to be.
I know the world can't pause the chaos even for a brief moment. I know there's no reason for trains to stop running, businesses to stop growing or children not to jump rope happily and skip merrily- but imagining the pain of those families I know their worlds have been absolutely shattered. I know their lives aren't resuming as usual. I know that this morning there were survivors who couldn't get out of bed because they were too busy sobbing into their pillows. I know their were families that woke up this morning to relive the brutal pain all over again when they realized all of the horror and heartbreak was not just a nightmare but a reality.
I'm laying in my bed watching the street outside my window grow dark as I type. My apartment is utterly silent, all I can hear is the faint hum of the dishwasher from my kitchen. For just a moment time does seem to pause; it is as if the whole world is muted, still and grieving for the beautiful people who went out looking to have fun.
If the world were truly to stop spinning, to pause and grieve the magnitude of this loss and all of the losses we've experienced this year I'm not certain it would even do much good. Stillness and silence can't undo hatred. The only way we'll ever combat darkness is a great deal of love and education. I'm not sure why there must be so much evil and darkness, but I want to be the type of person who recognizes the impact those who were lost had on the world.
My most heartfelt condolences still fall flat as they cannot erase violence, alleviate pain or bring back the deceased. Our words though are our mightiest weapons, perhaps our most impactful legacies, and I can't allow a major world event to weigh so heavily on my heart without using my words to vocalize my acceptance and love for people of all religions, ethnicities and sexual orientations. The world may go on, but we must hold this moment in our hearts and continue to fight for love, for peace and for understanding.
---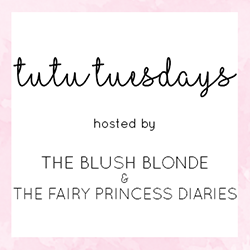 Welcome to Tutu Tuesdays a linkup with The Blush Blonde and The Fairy Princess Diaries! Linkup whatever you'd like and make sure to do a little mingling – our goal here is to create a community of bloggers where we can all connect, find new blogs, and support one another. We love new friends, supporting other blogs, and meeting fellow girl bosses!
There are just a few rules we ask you follow to join in on Tutu Tuesdays:1. Please follow both Kristin and I, your lovely hosts, on Instagram and/or Bloglovin.
Kristin: The Blush Blonde | Bloglovin' | Instagram
Jordyn: The Fairy Princess Diaries | Bloglovin' | Instagram
2. Link to your specific post, not your blog's main page.
3. Grab our super cute button or share a link to Tutu Tuesdays in the post you are linking up so everyone can know about the party!
4. Have fun and mingle with other bloggers that have linked up! Like I said we want everyone to make new friends!