This month has had its share of highs and lows. I spent a week sun bathing in Napa Valley, had my car window smashed, experienced my first ever migraine, spent a large portion of time outdoors, was offered several new jobs, rushed Pierre to the vet for a bad ear infection and finally spent yesterday blissfully enjoying the sunshine on Alki beach (albeit inside a coffee shop). May was certainly not vanilla. I am so ready for summer and I can't wait for everything June has to offer.
Before diving head first into the new month I want to take a moment to remember my favorites from the past thirty-one days. Be sure to comment with a few of your favorite memories, purchases, adventures, etc!
The Royal We| This month I finally got a new library card and picked up a few books from the library in my neighborhood. I read "The Royal We
" on vacation in California. To be honest the first 100 pages of the book were a little difficult to get into, if I hadn't had a plethora of free time I don't think I would have kept at it-that being said once I was hooked I was really hooked. Based very loosely on the love story of Kate Middleton and Prince William, I felt like I was looking at an exclusive behind the scenes issue of US Weekly. The story follows "Princess-to-be" Bex Porter as she studies abroad at Oxford and falls in love with her royal dorm mate. I definitely recommend this novel as a light hearted summer read for lounging by the pool, or keeping yourself entertained on a long flight. I promise if you hang in there the story gets much more juicy and captivating!
Family Time| Towards the beginning of the month I spent a week in Calistoga (Napa Valley) with my Aunt, Dad, and younger siblings. I was really missing my Dad's side of the family and I was so grateful to spend an entire week uninterrupted. Some of the highlights included running the Bay to Breakers race, getting facials, lounging by the pool and big family dinners. Towards the end of the month I spent memorial weekend with my Mom, her fiancé and my brother at their cabin in the mountains. It was great to detox from the digital and spent time catching up and wedding planning with my Mom.
Mason Lake Hike|My friend Nicole and I planned a double date hike with our boyfriends at the beginning of the month. Prior to last summer Jordan was never really into hiking and I was determined to convert him to my nature loving ways. We hiked to Mason Lake on a warm Saturday at the beginning of May. The hike was crowded but truly beautiful. We wandered through forest, rocky cliffs and even saw a bit of snow. Both Jordan and Nicole said it was their favorite hike to date!
Girls' Night with my Bestie| I have to admit, I don't necessarily get out as much as the typical twenty-four year old. I tend to prefer mornings and dislike any alcohol except champagne. I did however have a fun night out with my best friend, Nicole, a few weekends back. I absolutely adore girls' nights out dancing and I'm already craving another champagne dance party.
Finishing my Online Courses| As I mentioned previously I decided to take several fashion focused courses online this semester. I took three semester long courses and finished with a 3.7 GPA. I loved learning more about fashion, video editing and writing. I hope to take more online courses in the future!
I truly can't believe all that I have experienced this month. My hope for June is that it is filled with a balance of learning and adventure. Summer is my favorite season of all (don't mind when I say the same thing in fall…) and I am SO ready to embrace all of the excitement the warm weather has to offer.
---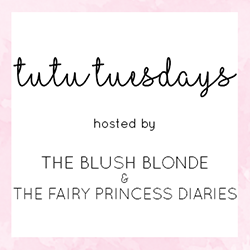 Welcome to Tutu Tuesdays a linkup with The Blush Blonde and The Fairy Princess Diaries! Linkup whatever you'd like and make sure to do a little mingling – our goal here is to create a community of bloggers where we can all connect, find new blogs, and support one another. We love new friends, supporting other blogs, and meeting fellow girl bosses!
There are just a few rules we ask you follow to join in on Tutu Tuesdays:1. Please follow both Kristin and I, your lovely hosts, on Instagram and/or Bloglovin.
Kristin: The Blush Blonde | Bloglovin' | Instagram
Jordyn: The Fairy Princess Diaries | Bloglovin' | Instagram
2. Link to your specific post, not your blog's main page.
3. Grab our super cute button or share a link to Tutu Tuesdays in the post you are linking up so everyone can know about the party!
4. Have fun and mingle with other bloggers that have linked up! Like I said we want everyone to make new friends!