Even a swoon-worthy new Tory Burch bag filled with chocolates and peonies couldn't make me as happy as Washington in the summer. Fresh air, sunshine and scenery are such a perfect recipe for happiness. The mountains, forest and sea are so enchanting, you really can't help but radiate your own inner sunshine in nature.
The past few days I've really embraced the perfect eighty degree weather and all of the opportunities to enjoy nature right outside my door. When I'm in a funk forcing myself to get out of bed or away from my laptop and into the fresh air is a great remedy. Whether it's a quick walk to grab coffee, an extended stay at the dog park, a day long hike with friends or opting for picnic dinner…I know I'll feel more refreshed after the fresh air.
Washington state is exceptionally beautiful, though I may be a little biased. I do believe every state (or province) has lovely outdoor spaces worthy of spring picnics and leisurely summer evenings. One of my goals for the month was to check out a new hike. Luckily Jordan, my bestie Nicole and her boyfriend were more than willing to join me this weekend. Now I am searching for more excuses to cartwheel in the grass, stare out at the water and even climb a few trees. Monday evening presented the perfect opportunity for a short canoe ride with Nicole (who luckily loves being outside just as much as I do). I'm so weak that my arms felt like jello after about an hour but it was so worth the soreness for the great views of ducklings, turtles, and even a blue heron! Summer makes me feel like a child inside and to be honest I don't hate it.
For the rest of the month I'm hoping to be outdoors as much as possible. Of course, there are valid reasons not to be outside (aka work) but that doesn't mean I can't embrace my inner nature girl whenever probable. I even like to blog at the outdoor tables at Starbucks! Anything for some extra sunshine (but don't forget the SPF).
I would encourage everyone to spend a little more time outdoors over the next few months. Swimming, paddle boarding, taking a jog, reading a book in the grass, practicing yoga lakeside at sunrise…May is the time to ditch your stuffy apartment. I promise your body and mind will thank you for it!
How do you take advantage of the weather in the spring and summer? Do you have any go-to outdoor activities?
---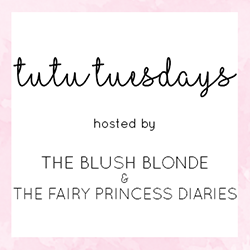 Welcome to Tutu Tuesdays a linkup with The Blush Blonde and The Fairy Princess Diaries! Linkup whatever you'd like and make sure to do a little mingling – our goal here is to create a community of bloggers where we can all connect, find new blogs, and support one another. We love new friends, supporting other blogs, and meeting fellow girl bosses!
There are just a few rules we ask you follow to join in on Tutu Tuesdays:
1. Please follow both Kristin and I, your lovely hosts, on Instagram and/or Bloglovin.
Kristin: The Blush Blonde | Bloglovin' | Instagram
Jordyn: The Fairy Princess Diaries | Bloglovin' | Instagram
2. Link to your specific post, not your blog's main page.
3. Grab our super cute button or share a link to Tutu Tuesdays in the post you are linking up so everyone can know about the party!
4. Have fun and mingle with other bloggers that have linked up! Like I said we want everyone to make new friends!