It seems blatantly intuitive that at twenty-four I feel the most adult I've ever felt. Most days I eat half of my meals from Starbucks, I am almost always buy the precut vegetables at Whole Foods rather than cutting them up myself, a part of me cries inside at the end of every month when I write a check for rent and I'd be lying if I denied that Jordan and I kept up a sheet fort in our bedroom for an entire week. I'm not the best adult there is, but almost two years after graduation I finally don't feel like a college student anymore.
Before I left for Paris I met my nineteen year old brother for ice cream near his college campus. He's a freshman and it's still weird for me to think about him living in a dorm, studying for big college exams and even more strangely doing independent college-y things without adult supervision or guidance. Maybe it's because I have finally adjusted to my little brother being a college student but I realized I really don't feel anything like a college student, and it's sort of weird.
I cringe at the idea of sticky frat house floors and dingy mysteriously stained couches. The idea of drinking foul tasting party punch until I vomit makes me gag and I've never been more thankful for my queen sized bed and wooden bed frame. For the first time ever my dresser isn't somebody else's hand-me-down and my couch isn't leftover from someone's basement or garage clean out. I eat pizza at midnight less frequently and no longer get a thrill out of buying champagne just to buy it.
I'll be honest, when I first started writing this post, I had started to feel like I was really getting my life together. Don't get too excited, I don't have plans to buy a house, add a diamond ring to my left hand or anything too serious anytime in the near future, but I did think "Hey I'm paying my bills and going to work and even filing my taxes without having a nervous breakdown". If being an adult meant more than legally buying champagne on a whim I was determined to figure out what it all meant.
Then, just a day after I first started drafting this post…the universe laughed in my face. "Ha! You think you're a real adult do you?" it scoffed as it threw a curve ball towards me that made it apparent how small and helpless I am in this great big adult world. I stepped away from the drafts section of WordPress and let the idea of being a real adult linger a little more.
The most adult I've ever felt…what exactly does that mean? Does it mean financial stability? Planning a trip abroad by myself? Talking about marriage and then deciding I'm still too immature and putting it off? What are the most "adult decisions" what do real adults decide?
Somewhat recently I asked my boyfriend if he thought I was immature. At the time I was very annoyed with an acquaintance who always felt the need to emphasize the fact that she was and adult woman who didn't have time for immature drama (when in reality she seemed very wrapped up in the drama she spoke out against). I've never been one to proclaim myself as mature but I wondered could I be as obnoxiously immature as the girl in question. In the end, Jordan and I came to the conclusion that really being an adult probably means you don't constantly ask others if you seem like an adult. Even at twenty-four, the most adult I've ever felt, I haven't quite reached adulthood yet.
Every few days I think I've reached some sort of existential milestone or epiphany, only to realize the way I perceive the world isn't as enlightening as I'd like to believe. Unarguably I am the most adult I've ever been. There will be hiccups and set backs, there will be days I choose to clean out my refrigerator or put money towards bills instead of towards shoes, but there will be equally as many failures. Being the most adult I've ever been partially means recognizing all the ways I'm not a good adult at all.
---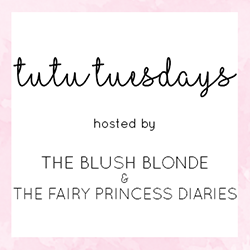 Welcome to Tutu Tuesdays a linkup with The Blush Blonde and The Fairy Princess Diaries! Linkup whatever you'd like and make sure to do a little mingling – our goal here is to create a community of bloggers where we can all connect, find new blogs, and support one another. We love new friends, supporting other blogs, and meeting fellow girl bosses!
There are just a few rules we ask you follow to join in on Tutu Tuesdays:
1. Please follow both Kristin and I, your lovely hosts, on Instagram and/or Bloglovin.
Kristin: The Blush Blonde | Bloglovin' | Instagram
Jordyn: The Fairy Princess Diaries | Bloglovin' | Instagram
2. Link to your specific post, not your blog's main page.
3. Grab our super cute button or share a link to Tutu Tuesdays in the post you are linking up so everyone can know about the party!
4. Have fun and mingle with other bloggers that have linked up! Like I said we want everyone to make new friends!