It's half way through March and I've really enjoyed documenting my outfits each day as a more "effortless" form of fashion blogging. Of course I love setting up fun photo shoots (it's one of my favorite hobbies) but there is something so carefree and casual about snapping a mirror picture and calling it a day. If you follow me on SnapChat (fairyprincessj) I post outfit of the day snaps daily, along with glimpses of my day to day life. I wouldn't say I'm the best "snapper", I'm weirdly self conscious about speaking on camera so no video vlogs, but I'm working on it.
Transitioning from February to March has been AMAZING. Not only is the weather getting warmer but the sun is peeking out on occasion. I am beyond ready to embrace sun dresses and short skirts! My work style has definitely reflected my eagerness for Spring. I have to be honest though, I often embrace Spring a little too eagerly, and thus have found myself shivering on the sidewalks in mini dresses sans jacket in the middle of February. #MeantToBeInCali
What I Wore to Work:
Dresses are my absolute favorite thing to wear. Not only are they feminine but they're comfortable! I never feel like I own enough dresses, I'm constantly searching for more (right now I'm dying over this Free People piece).
Last month I finally broke down and bought black denim, can you believe I've never owned a pair in my life? There must be something wrong with me. I've hit the ground running and wear this pair by Seven for All Mankind at least twice a week.
On lazy days nothing feels better than a loose top and a piece of statement jewelry to pull the look together. Baublebar has so many cute pieces right now (like this and this and this), I'm really having a hard time sticking to my "no shopping" March.
Finally, the suede skirt I picked up from Forever 21 last month has quickly paid off for its self, and to think I wanted a suede skirt back in August but wasn't sure I'd wear it enough. I definitely recommend sizing down if you order the Forever 21 skirt I'm wearing, it runs way larger than other pieces.
I'll be totally honest, I haven't stuck to my shopping fast entirely. I know, I know, I'm an epic failure. I did order these flats from Coach because they're so bright and cheery for Spring (and we all know I'm a giant sucker when it comes to shoes). Did you make any purchases you're loving yet this month?
What do you like to wear to work as we transition from Winter to Spring?
---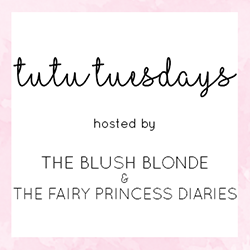 There are just a few rules we ask you follow to join in on Tutu Tuesdays:
1. Please follow both Kristin and I, your lovely hosts, on Instagram and/or Bloglovin.
Kristin: The Blush Blonde | Bloglovin' | Instagram
Jordyn: The Fairy Princess Diaries | Bloglovin' | Instagram
2. Link to your specific post, not your blog's main page.
3. Grab our super cute button or share a link to Tutu Tuesdays in the post you are linking up so everyone can know about the party!
4. Have fun and mingle with other bloggers that have linked up! Like I said we want everyone to make new friends!