When I think about where I'm at and who I'm surrounded by as isolated variables I'm quite happy. I love my boyfriend, I have the sweetest friends, I'm going to Paris in just over a month and I get to immerse myself in bridal fashion with fabulous coworkers each and everyday. I'm the most happy and simultaneously fulfilled I've been in as long as I can remember. My anxiety is practically a thing of the past, not to say I don't get stressed but I no longer feel as if an unavoidable impending doom is looming around every corner. I feel more in control of my life. Finally in a place I can grow and bloom and flourish…so why would I ever get caught up comparing myself to others?
In blogging I've always been pretty good about detaching myself from any sort of comparison or competition, in day to day life some seasons I struggle more than others. Though I usually find myself playing comparison when I am unhappy with myself, lately I've found myself unsettled by unwelcome jealousy even though I'm quite content. Isolated from it all I'm thrilled with where my life is currently. I've always been okay with forging my own path whether that means wearing safety pins in my pants when all my friends chose brightly colored polos from Abercrombie or vowing to go to a separate college than my high school bff or being the only one in my family to really care about fashion or all things girly. My path has occasionally been lonely but I've always forged on knowing I didn't care if I met others expectations of me. I never have been overly concerned with justifying my way of thinking or being, until recently.
Today I want to remind myself, and perhaps you if you're in a similar mindset, that someone else failing to notice your beauty or forgetting to laugh at your jokes doesn't make you any less pretty or funny. Validation, though nice, shouldn't be a requirement in confidence. Shouldn't practicing genuine confidence mean feeling proud of who you are even when those around you fail to see how fabulous you can be?
For the rest of the week (or as long as it takes for me to shake my nasty case of "comparsies") my goal is to exhale (and thus exude) confidence even when I don't feel my prettiest or most interesting. Confidence shouldn't be about feeling better than those around us but rather feeling empowered in ourselves and inspired by all of the talent, beauty and intelligence of those we meet.
How do you pull yourself out of a confidence rut? I'd love to hear your tips and tricks for warding off insecurity or negative feelings.
---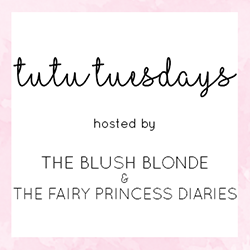 There are just a few rules we ask you follow to join in on Tutu Tuesdays:
1. Please follow both Kristin and I, your lovely hosts, on Instagram and/or Bloglovin.
Kristin: The Blush Blonde | Bloglovin' | Instagram
Jordyn: The Fairy Princess Diaries | Bloglovin' | Instagram
2. Link to your specific post, not your blog's main page.
3. Grab our super cute button or share a link to Tutu Tuesdays in the post you are linking up so everyone can know about the party!
4. Have fun and mingle with other bloggers that have linked up! Like I said we want everyone to make new friends!

***Photos by Courtney Briones, my awesome boss and talented iphone (and real camera) photographer (: