Good morning friends! A few weekends back Jordan and I met up with Melissa Shaw for a few sweet couple photos at Pike Place Market. I've seen a few sneak peeks here and there but receiving all of the photos mid work day…wasn't exactly a recipe for Monday productivity at work. I have so many favorites it was difficult to choose which to show you, which is why I decided I need to break our shoot into a few posts. Today I'm sharing my favorites from our time in Pike Place. If you haven't been to Seattle, Pike Place is a giant, year long, farmer's market. There are fresh flowers galore (at very reasonable prices), men tossing around fish, fruit and vegetables along with local art, jewelry, quite a few delicious restaurants and yes, the original Starbucks!
Prior to our shoot I had a mimosa which definitely made me giddy. I don't think I've stopped laughing since I started dating Jordan. I was so happy Melissa was able to capture the interactions that really felt like us and I mean, hello! look at the gorgeous light she wrangled in for us!
We were so lucky the sun decided to shine on the day of our shoot. Pike Place in the sunshine, oh my gosh our urban setting could not have been any more beautiful. The market was undergoing some unsightly construction but I think it totally worked with the urban vibe I envisioned.
I'm so happy with our urban photos. I love that the images incorporate such an iconic symbol of Seattle, the city where we met and live together. As every Fairy Princess should, I knew I couldn't be completely fulfilled without a touch of nature in our photo collection. After our jaunt around Pike Place we headed to a beautiful forested park that sits right on the beach. I'm already excited to show you the next set of photos but I felt it was important to give you guys a tiny break from kissy photos.
---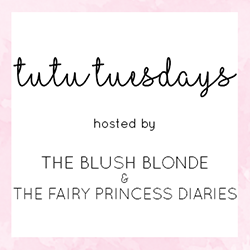 There are just a few rules we ask you follow to join in on Tutu Tuesdays:
1. Please follow both Kristin and I, your lovely hosts, on Instagram and/or Bloglovin.
Kristin: The Blush Blonde | Bloglovin' | Instagram
Jordyn: The Fairy Princess Diaries | Bloglovin' | Instagram
2. Link to your specific post, not your blog's main page.
3. Grab our super cute button or share a link to Tutu Tuesdays in the post you are linking up so everyone can know about the party!
4. Have fun and mingle with other bloggers that have linked up! Like I said we want everyone to make new friends!