Hello friends! I've finally made it to my own link-up (I somehow missed it last week thanks to a 24 hour onset of the craziest sore throat). So, hello!
I've been daydreaming a lot recently, daydreaming about shoes, daydreaming about Taylor Swift, daydreaming about packing my bags and jetting off to Europe. Forgive me ahead of time as my brain is simply all over the board here. Hopefully Tuesday has you feeling as sporadic as me and you'll be able to keep up with my whims, I have faith in you!
1.After seeing photos of Taylor Swift as the maid of honor at one of her best friend's weddings this weekend I couldn't help but think, how can I have Taylor Swift as my bridesmaid?? The photos were just dreamy and Taylor and her bestie looked phenomenal (duh).
2. Every day I have the joy of spending time with gorgeous brides as they prepare for their wedding day, I hear about so many fabulous wedding plans from exotic elopements to ceremonies in canoes, to giant church weddings. Now I'm just wondering…can I get an invite? I'd like a side job attending weddings, steaming and bustling the dresses. Obviously it's expected that I'll drink the celebratory champagne on the job (it would be totally rude otherwise).
3. I think I've finally bought into the athleisure trend because last night I ordered these high tops. I'm all about statement shoes and I think these sneaks provide just the right mixture of girly and urban. I cannot wait to wear them with joggers, leather leggings and jeans for skipping around town.
4. Who doesn't love sun bathing in the tropics? By February my body is in a constant state of cold and I'm SO ready to de-thaw. Even though Seattle has been fairly sunny lately (#Amazing) I'm totally still fantasizing about a week in Cozumel, Bali or The Bahamas. I've never used a Groupon Getaway but this trip to Bali looks incredible! First Paris, then Bali? Am I getting ahead of myself with the trip planning here?!
5. For those of you whose invitation to New York Fashion week got lost in the mail (don't worry, mine too) I found a fun recap of the trends socially and fashionably here. One of my thirty before thirty goals is to attend some sort of fashion week, so I've been stalking WWD and Fashionista fairly casually over the past week and a half obsessing over the trends for fall. I'm totally thanking God that sixties and seventies inspiration is still a yes for next season, I'm not ready to give up my suede skirt, fringe or bold brocades quite yet. Which trends are you looking forward to for Fall or better yet, for Spring?
---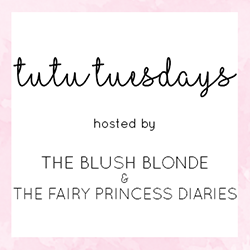 There are just a few rules we ask you follow to join in on Tutu Tuesdays:
1. Please follow both Kristin and I, your lovely hosts, on Instagram and/or Bloglovin.
Kristin: The Blush Blonde | Bloglovin' | Instagram
Jordyn: The Fairy Princess Diaries | Bloglovin' | Instagram
2. Link to your specific post, not your blog's main page.
3. Grab our super cute button or share a link to Tutu Tuesdays in the post you are linking up so everyone can know about the party!
4. Have fun and mingle with other bloggers that have linked up! Like I said we want everyone to make new friends!