Saturday afternoon Jordan and I headed up to the mountains to hit the slopes. Jordan loves skiing, he dreams about chairlifts and moguls and inches of fresh powder. I hate snow when it comes to living in it, but I think it is gorgeous and don't mind driving to it on occasion. I started snowboarding when I was thirteen but I can't say I learned much over the years. This year I have been determined to maintain a positive attitude even when I fall. I don't care about being a great (or even good) snowboarder, but I do care about making happy memories in the snow!
I have to say I've become a lot more optimistic since my first snowboarding adventure this season. Though I'm still slow and I still fall off the lift pretty much every time I get off, I'm a lot better at smiling through my failures and just having a good time. I like that we have season passes instead of buying day passes every. With a day pass I feel way less guilty retreating to the lodge to sip hot chocolate every once in awhile or leaving before the lifts close. Without the pressure to stay in the snow every moment of the day the adventure feels so much more enjoyable.
Saturday I worked on a filming project for an online class I'm taking and I wanted to share the results. Originally the video had Taylor Swift's "Out of the Woods" as the soundtrack (since I never intended to use the video for anything other than learning purposes) but the minute I uploaded it to Youtube to share with you guys the audio was muted. The silent film does have a different affect. Don't expect a Youtube channel with Vlogs anytime soon (I HATE myself on film), It's just a quick video recap of our day in the snow. My favorite part about it all was definitely all of the jaw dropping scenery!
How did you spend your weekend? Do you love the snow or just sort of tolerate it? 
---
Welcome to Tutu Tuesdays a linkup with The Blush Blonde and The Fairy Princess Diaries!  Linkup whatever you'd like and make sure to do a little mingling – our goal here is to create a community of bloggers where we can all connect, find new blogs, and support one another.  We love new friends, supporting other blogs, and meeting fellow girl bosses!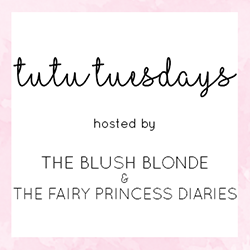 There are just a few rules we ask you follow to join in on Tutu Tuesdays:
1. Please follow both Kristin and I, your lovely hosts, on Instagram and/or Bloglovin.
2. Link to your specific post, not your blog's main page.
3. Grab our super cute button or share a link to Tutu Tuesdays in the post you are linking up so everyone can know about the party!
4. Have fun and mingle with other bloggers that have linked up!  Like I said we want everyone to make new friends!