A few years ago I read "The Happiness Project
", at the time (though I wouldn't admit it outright), I was at a very unhappy stage in my life. I felt trapped in an unhealthy relationship that made me feel isolated from my friends and family. I was lonely. As I read Gretchen Rubin's account of her own year attempting to be happier and healthier one specific concept stuck out in my mind-"proofs of love". This post is less about Gretchen's search for happiness (though I do recommend the book) and more about a specific niche. Gretchen emphasized "there is no love, there are only proofs of love" and the line resonated with me for months (and clearly years) to come. The truth is, to an outside perspective, there really isn't anything other than proofs of love. No matter how much we may feel for someone in our hearts it doesn't matter unless we manifest it.
I can honestly say I love my little brother Dylan more than I love most of the people in the world (including my friends, including most of my family). My eight year old brother holds a part of my heart that has been untouched by any other. Maybe it's our large age gap, maybe it's my instinct to protect him, maybe it's his huge brown eyes and unfairly long eyelashes, whatever the cause I know I love him. My little brother lives in California though. I only see him every month or so and even then our visits aren't too extensive. Sometimes I pick him up from school, help him with his homework, take him to ice cream or to the park. When we're not together I think about him often, I even talk about him to Jordan but do I show proofs of love? Not really.
My little brother lives in another state so showing proofs of love on a daily basis can be difficult (especially since he doesn't have a cellphone and I'm a little bit lazy). I have to call my Dad to talk to my brother, or write him letters, or send care packages. I should do it more (note to self: send little brother a Valentine's Day gift). Yet, so many of us (myself included) forget to show proofs of love to the people we see on a daily basis. Wrapped up in the whirlwind that is life we forget to say "I appreciate you", to give a "just because" gift or a handwritten card with a simple reminder that we do care.
With Valentine's day approaching this time of year reminds us to focus on proofs of love. Rather than showing Jordan, my family, my friends and my little brother that I love them on Valentine's Day, their birthdays and Christmas, I want to work to be the person who shows her family she loves them all year long. As we all know, love doesn't just come in heart shaped boxes filled with chocolates, with spontaneous bouquets of flowers or even scrawled in pink le pen on custom stationary; love is both all of those tokens and none of them.
For the month of February I'm challenging myself to show more proofs of love, to show a proof of love (no matter how small) every day. It is my hope that by the end of the month these small habits like calling my Mom just to talk, sending letters for no reason, and reaching out with a simple "I think you're wonderful" on Facebook will be engrained into my habits just a bit more.
How do you strive to show those you love that you care? Do you ever need to remind yourself to demonstrate your love a little more?
---
Welcome to Tutu Tuesdays a linkup with The Blush Blonde and The Fairy Princess Diaries!  Linkup whatever you'd like and make sure to do a little mingling – our goal here is to create a community of bloggers where we can all connect, find new blogs, and support one another.  We love new friends, supporting other blogs, and meeting fellow girl bosses!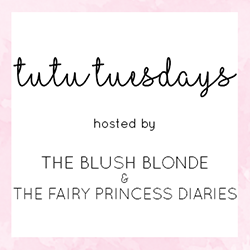 There are just a few rules we ask you follow to join in on Tutu Tuesdays:
1. Please follow both Kristin and I, your lovely hosts, on Instagram and/or Bloglovin.
2. Link to your specific post, not your blog's main page.
3. Grab our super cute button or share a link to Tutu Tuesdays in the post you are linking up so everyone can know about the party!
4. Have fun and mingle with other bloggers that have linked up!  Like I said we want everyone to make new friends!