I started seeing a new therapist last week  for the first time. I'm not shy about therapy, in fact, I would argue all people should see a therapist at least a handful of times in their lives. You don't really know whether or not a service or treatment can or will benefit you until you try it. I've seen a therapist briefly in the past and I knew I wanted to see someone again once I had the ability to do so. Though my life is seemingly more "in order" than it has been, I deal with bouts of anxiety, overanalyzing and self doubt. I have yet to see a therapist long term but from the brief encounters I've had with therapy in the past as well as the sense of release I get from pouring my feelings out in this space,  I felt like discussing my feelings openly seemed like a beneficial step.
Though my first appointment went well I walked into my second appointment unsure of what exactly I wanted to discuss. As weird as it sounds I worried I maybe wouldn't seem "broken" enough for therapy and the therapist would cut me off then and there. In fact, the opposite was true, as soon as the therapist began probing me with subtle questions I realized how much I had to say. I admitted I have trouble trusting myself and my decisions because I have allowed myself to make poor relationship choices in the past. I give people I love endless chances to hurt me because I don't really believe in shutting people out of my life.
Without delving too far into my own experiences and issues I want to share the insight I gained. Sometimes we welcome toxic people, experiences and relationships because they are familiar to us. Even though familiar isn't always good we feel comfortable with what we know and therefore don't have to relearn how to cope. I had to admit that I am comfortable with emotionally abusive relationships. I am comfortable with irrational arguing, violent bouts of anger and emotional manipulation (side note: none of this is referencing my current relationship with Jordan). Unhealthy love feels so familiar that I've settled into bad relationships because they felt safe.
Moving forward I've had difficulty with decisiveness because I don't trust myself to make major life decisions. I worry I will welcome abusive relationships subconsciously because I am used to the patterns of abuse. All I can do (all we can do) is to search for patterns and recognize unhealthy behaviors as wrong (even if they do feel familiar). After my session I felt ready to embrace the unfamiliar, and encouraged not to fear these new patterns. In my case, and I assume in many others, unfamiliar is actually the healthier option. Run towards the new, the unexpected, the seemingly unsafe!
It's funny to rehash my latest therapy session; I can't help but smile at the irony of my revelation. I've always said my greatest fear is settling into a life of complacency, that is becoming okay with a mundane life without striving to grow and learn. I realize now in some ways I've already realized my greatest fear. I have settled into familiarity in the past, and it has been my interpretation of this negative life experience that has continued to confine me. It's time to break free!
How do you think about the unfamiliar? I'm challenging you to think about familiarity in a new way, not just in terms of breaking out of your day to day routine, traveling and risk taking but on an emotional level. What sort of relationships are familiar to you? What feelings do you settle into and define as "normal"? I think you'll find it's an interesting topic to think about.
---
Welcome to Tutu Tuesdays a linkup with
The Blush Blonde
and 
The Fairy Princess Diaries
!  Linkup whatever you'd like and make sure to do a little mingling – our goal here is to create a community of bloggers where we can all connect, find new blogs, and support one another.  We 
love 
new friends, supporting other blogs, and meeting fellow girl bosses!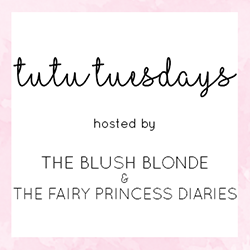 There are just a few rules we ask you follow to join in on Tutu Tuesdays:
1. Please follow both Kristin and I, your lovely hosts, on Instagram and/or Bloglovin.
2. Link to your specific post, not your blog's main page.
3. Grab our super cute button or share a link to Tutu Tuesdays in the post you are linking up so everyone can know about the party!
4. Have fun and mingle with other bloggers that have linked up!  Like I said we want everyone to make new friends!