Taylor Swift's album "Speak Now" really resonated with me, perhaps it is because my roommate and I listened to the album on repeat on the five hour drive to and from Pullman our freshman year of college. The idea stuck with me, you have to say what you want to say, you have to say how you're feeling. Speak now, because you don't really know if you'll be able to later. I adopted the idea and vowed not to hold back any of my most intimate emotions.
When someone makes me upset, or irritated and sad, I'm not one to bite my tongue. My tendency is transparency, to talk out my grievances even if I realize my feelings are a bit illogical. Occasionally my need to talk through every issue and emotion has caused more problems in relationships. Left between two opposing sides I had to decide between biting my tongue and bottling up my emotions and venting my frustrations. I couldn't understand why I would go into a conversation with the intention of laying down how I felt and it would end with one person storming off angrily and the other crying on the floor.
Yesterday someone I work with was talking about ensuring the happiness of customers. She said "Sometimes the customer doesn't want you to solve the problem, they just want to feel heard and then receive a genuine apology". It hit me that usually I just want to feel heard too. I don't want my boyfriend to stop working late just because I vent that I sometimes feel lonely or like we don't see each other as much as I would like. I just want my feelings to be heard, possibly understood, validated.
Over the past year I've realized one of the biggest relationship issues (romantic or otherwise) is less about all the little issues and more about identifying the ways your partner thinks, communicates and problem solves. If you don't understand how you think about an issue and communicate those thoughts, how can you hope to understand how anyone else reacts? I'm a talker, a solver and an idealist. I'm always looking to improve a relationship and therefore identifying every little issue, turning it over in my head and word vomiting it out (either through personal reflection or talk with a friend). My way of thinking about issues isn't everyone's way, nor is it the best way or the right way.
Leaving unspoken, unwritten emotions inside me to fester feels like absolute torture. These unrealized emotions eat away at me. I need that outlet. Not everyone needs to feel heard or validated in the same sense. Some might need recognition for their achievements and successes and care little about the outside world understanding their feelings. These people have an easier time sitting with emotions. Solution based (rather than idea based individuals) won't necessarily share their feelings unless sharing leads to some sort of resolution. Knowing who you're dealing with can help you maneuver through any problem more easily.
Small issues feel big when you can't understand why your partner is reacting the way they do. It's like you're speaking Swedish but your partner doesn't know Swedish. Likewise, when you don't understand the way you analyze, vocalize and problem solve it's like you're thinking in Swedish but have no way of expressing it because you DON'T know Swedish. First we must identify and learn the languages we speak ourselves, then we must learn the language of our partners.
After my minor epiphany last night I sat on the counter while Jordan cut up blood oranges and revealed what I had discovered. I admitted that often I'm not looking for a solution to my frustrations but rather a loving and supportive listening ear. Simply, I just want to talk about how I feel and have someone else say "I understand". Jordan appreciated my ability to express what I need. To him, there is no need to discuss a personal problem, complex emotions or ideals unless there is a solution. We differ, but understanding our difference in thinking makes everything a whole lot easier.
Do you see yourself as more idea based or solution based? Do you feel the need to discuss emotions even if they seem illogical or if nothing can be done? Is the desire to feel "heard" as deep rooted in you as it is in me?
---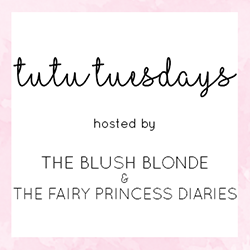 Welcome to Tutu Tuesdays a linkup with
The Blush Blonde
and 
The Fairy Princess Diaries
!  Linkup whatever you'd like and make sure to do a little mingling – our goal here is to create a community of bloggers where we can all connect, find new blogs, and support one another.  We 
love 
new friends, supporting other blogs, and meeting fellow girl bosses!
There are just a few rules we ask you follow to join in on Tutu Tuesdays:
1. Please follow both Kristin and I, your lovely hosts, on Instagram and/or Bloglovin.
2. Link to your specific post, not your blog's main page.
3. Grab our super cute button or share a link to Tutu Tuesdays in the post you are linking up so everyone can know about the party!
4. Have fun and mingle with other bloggers that have linked up!  Like I said we want everyone to make new friends!