When I first met Jordan we were at the bottom of a ski slope. Though I started snowboarding when I was 13 in Ski club, I never learned the proper techniques for carving. I just make my way down the mountain attempting not to fall or hit somebody and generally do pretty alright.
I quickly learned Jordan is obsessed with skiing. He lives for skiing. He dreams of snow and "play skis" down every set of stairs we walk down. He even bought a separate car just for skiing. During the past year we've been dating I've been snowboarding more than I had in the previous five years combined (and the conditions were horrible). Jordan loves snow, and I love Jordan so I thought "well, I can love snow".
This year we both bought season passes for Stevens' Pass. I hoped and prayed for Jordan's sake that this year it would actually snow on the mountain. Every day since Halloween Jordan has been checking the conditions on the mountain. The conditions finally looked decent enough that we planned a double date with the two friends who introduced us. Sunday morning (bright and early) we loaded into the ski car and drove up to Stevens.
Exhausted from babysitting late the night prior I felt like a zombie. I'm not the sort of person who could pull all nighters to study in college; I'm the sort of person who drives in the wrong lane of traffic after 6 hours of sleep and forgets how to feed herself with just 4 hours. At 5-ish hours of sleep, I was somewhat on that dysfunctional level.
The first run down I was a mess. We'd all separated and ended up in the singles line for the lift. Intense, savvy snow bunnies often take this approach to get up the lift faster. However, when you're really not that into snowboarding half the fun is forcing your boyfriend to take selfies with you on the lift. Sitting next to a group of strangers who were hungover and reeked of fireball was not my idea of socialization. I sat simmering in my overtired anger the whole ride up. At the top I met up with Jordan and we headed down the mountain. I hit flat trail after flat trail. Annoyed and unable to keep up with my skier boyfriend I unstrapped myself completely and stumbled through the snow in a sweaty haze. Repeat the following flat trail scenario half a dozen more times and you understand my frustration. I felt a full on Eloise style temper fit coming on.
"Isn't the point of snowboarding to go DOWN HILL?" I pouted, stomping my board against the ground. Jordan looked at me with distaste and I tried to stand my ground, as if it was perfectly normal that a 23 year old woman was behaving like a 5 year old. I grunted and grumbled up the next lift as Jordan attempted to appease me with cute selfies and small talk. By the time we reached the bottom of the run I'd been hit by a small child, stuck on a flat trail that seemed to go on longer than the trail of tears and fallen face first into a large pile of powder. My nose was cold. My leg was aching and my eyes were twitching from the lack of sleep the night before. Did I cry and whine more than the toddler who was afraid to go on the lift for the first time? Whose to say really what happened…all I know was that I didn't notice the beautiful scenery, the crisp smell of snow in the air, or the happy people all around me because I was lost in my brattiness. Jordan was displeased.
I headed the lodge to stomp my feet and hopefully send an over the top dramatic text about how much I hated snow to Jordan. Luckily I headed to the bathroom first and after standing in line for several minutes, my over the top dramatic text message didn't seem as helpful of a coping tactic as it did before. I looked in the mirror at my puffy tired eyes and thought to myself "What would Taylor Swift do?", it was her birthday after all. Though I had no solid evidence suggesting Taylor Swift would do anything other than what I was doing, I decided it was time for good to triumph over brattiness.
I spent a few more minutes sitting outside the lodge and watching young children fumble around in their bulky equipment with their proud parents. I reminded myself that the day was supposed to be fun, not stressful, and vowed to get a lesson. Perhaps learning to actually snowboard would make the process a bit more rewarding? The rest of the day I avoided flat trails like the plague. Consequently I really just repeated the same straight down hill run over and over again, but I was much happier.
I know this year will be filled with many more ski adventures. Dating someone who is so passionate about skiing makes me want to learn the basics, to understand what makes this hobby so enjoyable. Mostly, I wanted both of us to remember the day not as "that time girl-Jordyn was throwing tantrums on the mountain" but rather as "the day that comically started with temper tantrums and morphed into something better".
How do you fare in the face of confrontation? Do you have any tactics for conquering frustration? I'm really trying not to turn something I liked into something that makes me anxious. I'm sure I'll be writing more about mountain adventures, we'll see how it goes!
---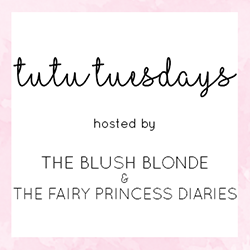 Welcome to Tutu Tuesdays a linkup with
The Blush Blonde
and 
The Fairy Princess Diaries
!  Linkup whatever you'd like and make sure to do a little mingling – our goal here is to create a community of bloggers where we can all connect, find new blogs, and support one another.  We 
love 
new friends, supporting other blogs, and meeting fellow girl bosses!
There are just a few rules we ask you follow to join in on Tutu Tuesdays:
1. Please follow both Kristin and I, your lovely hosts, on Instagram and/or Bloglovin.
2. Link to your specific post, not your blog's main page.
3. Grab our super cute button or share a link to Tutu Tuesdays in the post you are linking up so everyone can know about the party!
4. Have fun and mingle with other bloggers that have linked up!  Like I said we want everyone to make new friends!