Over the weekend I had the pleasure of visiting New York City for a quick, spontaneous trip with my family. The long weekend brought not only the hustle and bustle of an exciting city but plenty of unexpected surprises! After a minor town car accident on the drive from Newark to the city, we arrived safely in New York City lively and ready for a Friday night on the town. Our first evening in the city we met up with my uncle at Dos Caminos, a Mexican restaurant in Midtown. After a long day of traveling I was starving and was shoving everything within my reach into my mouth. Guacamole! Mexican street corn! Butternut squash tacos and more! After our dining (or in my case binge eating) experience we walked down fifth avenue to check out the gorgeous holiday window displays and light shows. Saks simply out does everywhere else. The window displays look like actual art by top fashion designers (the theme was winter castle) and the gigantic castle light display (set to music) looked like it was created by Queen Elsa herself.
Fast forward to 3:00am and I'm tossing and turning in bed completely restless and nauseous. I finally rushed to the bathroom afraid I was going to get sick, only to have my worst fears confirmed. The rest of the night was very messy on the hour, every hour. It was miserable! The next morning we were supposed to go for a poetic run in Central Park, needless to say I wasn't feeling it. I'd spent most of the night laying on the bathroom floor, afraid to stray too far from the toilet and I looked like a haggard mess. I skipped the brunch cruise we had planned around the statue of liberty and opted for watching "Say Yes to the Dress" in bed. Though I was sad to miss out on half a day of NYC fun it was definitely for the best. When my Aunt, Uncle and Joanna (their exchange student) returned mid afternoon, I was finally able to walk and keep down water.
In a very kind attempt to cheer me up, my Aunt and Uncle popped into the Stuart Weitzman shop on Fifth Avenue with me. I've been dreaming of SW boots for as long as I can remember (honestly I can't even count how many times I've referenced them on this blog) so when my Aunt and Uncle gifted me a pair of Lowland Over the Knee boots in black leather I was freaking out. Despite an aching body, major headache and case of dehydration I was practically skipping through Midtown. I haven't taken off my fabulous new boots since, they'll definitely be making an appearance in future fashion posts. (P.S. Stuart Weitzman actually has a lot of items on sale right now, be sure to check it out if you want to give yourself a fantastic holiday gift).
We grabbed a few pedicabs for a tour through Central Park before heading back to our hotel and out to Korean for dinner. The tour was a lot of fun (and a great alternative to walking since I was so weak and achy). Pedi-Cabbing through Times Square we were side swiped by a bus, at which point Joanna and I both let out ear piercing shrieks. We quickly wrote it off as a casualty of the city. A car accident? Food poisoning? Pedicab side swipe? None of it mattered in beautiful New York City! Prior to that night I had never eaten Korean food, I can sadly say I still haven't eaten Korean food. Thanks to lingering food poisoning illness I had absolutely no appetite so I had several sips of broth and called it a night before heading home.
Sunday I awoke feeling healthy and new! The entire day prior felt like a hallucinogenic haze. We walked to the Museum of Modern Art and checked out the Picasso Sculpture exhibit as well as the permanent exhibits. I absoloutely adore art museums so I had the best time posing like a dork by the famous pieces. After brunch, a few drinks at the Baccarat Lounge (a gorgeous all crystal bar near the MoMA) we sprinted over to the Upper East Side for high tea at the Lowell.
I always adore high tea and the experience at Lowell was no exception. Of course I couldn't help but channel my inner Blair Waldorf for the entire duration of our time on the Upper East Side. After tea we walked to Broadway to catch Wicked. Though I love theatre I've never seen the production before (though I listen to all the music) and was pleasantly surprised by how much I liked it.
Monday morning we wrapped up our trip with relaxing massages (shouldn't all Mondays start with a massage?) and a mediterranean lunch. Though our flights were late in the afternoon we wanted to allot plenty of time for traffic and airport security. Despite a few minor set backs the trip really was a dream! Even with food poisoning, a few minor traffic accidents and a developing cold (ugh) the weekend was perfection. I'm already day dreaming about returning to New York City as soon as possible.
Thanks for taking the time to read my trip recap. I know sometimes reading about someone else's vacation can be a tad bit boring. Occasionally I like to use this space as my own memory journal, which I realize can seem a bit tedious to the average reader. I appreciate you hanging in there and skimming through my weekend adventures.
---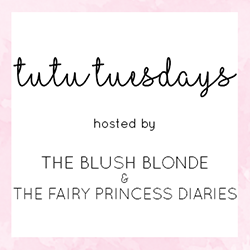 Join Kristin & I for our weekly Tutu Tuesday linkup, where we celebrate anything feminine, fun or inspiring. There is no set topic, the focus of this link up is making fabulous new blogger friends. So join with us by adding your link and be sure to check out a few new blogs too! I can't wait to read what you have to say <3
There are just a few rules we ask you follow to join in on Tutu Tuesdays:
1. Please follow both Kristin and I, your lovely hosts, on Instagram and/or Bloglovin.
2. Link to your specific post, not your blog's main page.
3. Grab our super cute button or share a link to Tutu Tuesdays in the post you are linking up so everyone can know about the party!
4. Have fun and mingle with other bloggers that have linked up!  Like I said we want everyone to make new friends!