Happy first day of December! I put up the Christmas tree in our apartment on Sunday night and did a little Christmas shopping so I really feel in the Christmas spirit. The past few months I've been sharing my favorites from all month long (from memories to television shows to cute shoes). November was a weird month because I was out of town for all but a week of it. I loved spending time in Calistoga and San Francisco to switch up my routine.
November Favorites
Parson & Teen Vogue Fashion Essentials Course| I recently finished the first unit of the Parsons & Teen Vogue Fashion Essentials course. The course is five units and is offered fully online. I signed up because I love fashion and I am always interested in learning more about the complex industry. So far the course has been a little repetitive (since I have taken fashion courses before) but I am enjoying it nonetheless. This week I am starting the second unit "Thinking Like a Designer". I am excited to see what the unit focuses on! If you've been considering the course and have any questions feel free to send them my way.
NaNoWriMo 2015| The month of November I participated in National Novel Writing Month. I came nowhere near to my goal of 50,000 words, however I did spend a good amount of time writing and found an engaging plot. My goal for December is to continue focusing on my novel despite the craziness of the holidays. If you've written a novel before I would love your tips for pushing through during busy times.
Thanksgiving Weekend| I spent this Thanksgiving with my Mom and her fiance's family. I am generally not a huge fan of Thanksgiving (I'm a vegetarian and not a huge fan of Thanksgiving food or hanging out with strangers) but really enjoyed the celebration this year. Friday night Jordan and I stayed at my Mom and her fiance's cabin near Mt.Rainier. The cabin sits on a beautiful property and doesn't have internet or cellphone service (which is actually really refreshing). Though we only stayed overnight I had a great time eating more Thanksgiving food and playing games with my family.
Tory Burch Tassel Bags| I picked up this bag at Nordstrom during the Thanksgiving weekend sale for 30% off. I was so excited; I've loved burgundy bags for the past year so getting my hands on such a cute piece was definitely exciting! Right now Tory Burch is carrying so many cute tasseled products from a tassel key ring, to a tasseled mini backpack, to a quirky needlepoint tasseled pillow. I also adore these Acorn Charm Smoking Slippers (they're not tasseled but they're still totally gorgeous for winter). Are you as crazy for Tory as I am?!
Quality time with my Siblings| While in Napa Valley for the last month I was able to spend quite a bit of time with my two youngest siblings Dylan (age 8) and Gigi (age 2). Dylan and Gigi are such little cuties. I love being a big sister and having siblings SO much younger than me is a lot of fun. Age eight is quite possibly my favorite age in the entire world. Dylan is so filled with imagination, energy and zest for life, while still maintaining optimism and sass. I am so grateful for the time I spent riding bikes, doing homework and playing at the park with my baby brother and sister.
Maybe in Another Life by Taylor Jenkins Reid| My goal for the month was to read three books and sadly I only read one, however the one I did read was incredibly compelling, I literally sat down and read Taylor Jenkins Reid's latest novel in one six hour sitting. Maybe in Another Life
 follows the story of Hannah, a cinnamon roll obsessed twenty-nine year old with no sense of purpose or direction. Feeling deflated after discovering she was having an affair with a married man, Hannah moves back to her hometown of Los Angeles to stay with her best friend and figure her life out. On her first night out in L.A. Hannah must make a choice to go home with her BFF or stay out with her old high school sweetheart. At this portion the book breaks into two story lines-what would happen if Hannah stayed with her ex and what would unfold if she left the bar with her friend. This light hearted girly read was intriguing and unpredictable, it really made me think about everything that could be in life. As someone who identifies with being indecisive this book really resonated with me. If you're looking for an quick read you won't be able to put down for Christmas break reading I highly recommend Maybe in Another Life.
San Francisco Adventures| One of the best perks about staying in Calistoga most of the month was its close proximity to San Francisco. For the amount of time I have spent in California I haven't spent nearly enough time in the Bay Area. San Francisco really stole my heart on this trip and passed Los Angeles on my list of best West Coast cities. I had such a great time wandering through the city alone, with Jordan and even with Caroline. Though I loved the shopping, the food and the fantastic bay views, my absolute favorite part of San Francisco is the architecture. What wouldn't I do for a cute $5 million 3 bedroom in Russian Hills? I should have been born a millionaire, I would be just darling at it (:
My December Wish List: Steve Madden Navy Booties,Kate Spade All in Good Taste
,A Day with Marie Antoinette
, Lace up Flats, Christmas Pajamas (like THESE or THESE) and for some reason I've been dying for a pair of sequin leggings (wouldn't they be the perfect touch for a holiday party?). What's on your personal wish list for December?
Do you have any favorite products, clothes, movies or memories from this month? I love to hear what you guys are loving!
---
Grab a button and don't forget to join
Kristin
and I for Tutu Tuesday! For those of you who signed up for Tutu Tuesday Secret Santa I have sent out partner assignments, please let me know if you did not receive an email and I will make sure to get you the information you need.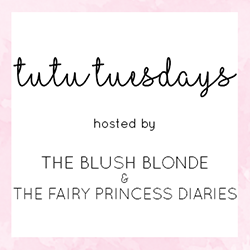 There are just a few rules we ask you follow to join in on Tutu Tuesdays:
1. Please follow both
Kristin
and I, your lovely hosts, on Instagram and/or Bloglovin.
2. Link to your specific post, not your blog's main page.
3. Grab our super cute button or share a link to Tutu Tuesdays in the post you are linking up so everyone can know about the party!
4. Have fun and mingle with other bloggers that have linked up!  Like I said we want everyone to make new friends!