After spending roughly three weeks in Napa Valley dog sitting my Aunt and Uncle's two Rhodesian Ridgebacks I am so ready to get back home to Jordan and Pierre. I miss Pierre's cute little puppy kisses, his playful spins and the way he snuggles with me all night. Of course I love my Sue and Flash (the rhodesian ridgebacks) but I miss my own puppy all the same!
Pierre is a Chinese Crested. A lot of times people ask me why we chose to get a hairless dog and what made us decide on Pierre's specific breed. I knew I wanted another dog for months. I grew up always having a dog and I have to admit I am one of those people that doesn't feel "at home" without a dog. Growing up my family always had a dog but they were never small and certainly never gremlin-like hairless dogs like Pierre. My entire life I've had mixed breeds from the animal shelter and my childhood big, fluffy black dog Dobie is still full of energy at age 13!
Jordan and I decided on a Chinese Crested long before we ever saw Pierre. Jordan absoloutely hates dog hair on his clothes and knew he needed a dog that would shed very little or preferably not at all. We also realized living in an apartment we wanted a dog who didn't need a large yard. One rainy morning while we were having breakfast at a local coffee shop we saw a man walking a gray Chinese Crested out in the rain along with his Italian greyhounds. We were both immediately intrigued by the little hairless dog (who actually looked miserable in the rain) and we began researching the breed that evening. The more we researched the more we realized a Chinese Crested had many of the traits we were looking for.
They were very well suited to apartment living (often preferring to play indoors than go on a walk), they really dislike being alone (which was great because I wanted a companion), they don't shed (of course) or drool and their overall attitude was described as "alert" and "happy". The more research I conducted, the more I realized I wanted a Chinese Crested. It didn't help that Jordan and I started watching Youtube videos of spastic Chinese Crested puppies…we were hooked! Initially we wanted to wait until after Christmas to begin searching for a dog but Pierre stumbled into our lives a little earlier as the perfect little birthday present for Jordan. I could not be happier with Pierre. He is so filled with energy and life, though he occasionally drives me crazy (pulling my hair when I am sleeping) he is definitely a member of the family. I love him so much!
The weirdest part about researching Chinese Crested dogs was realizing how different they are from any of the other dogs I've owned. As we researched Pierre's breed we also researched other breeds and I realized there really are temperament, behavior and health differences from breed to breed. While a Chinese Crested doesn't need a daily run the exercise needs of other breeds like rhodesian ridgebacks and pit bulls vary. Most importantly each breed has their own health concerns. Chinese Crested dogs need special skin care, while Ridgebacks are more prone to develop elbow or hip dysplasia. American Staffordshire Terriers commonly develop allergies and Yorkies are more likely to develop a condition known as "reverse sneezing". Though all dogs share certain dog commonalities, it is useful to know your pet's genetic background to help identify medical concerns proactively rather than reactively.
Mars Veterinary actually offers DNA Testing for dogs. One of the most important reasons to test your mixed breed's DNA is to test for a common mutation (MDR1) that causes common drug resilience among herding dogs. The MDR1 mutation can cause severe reactions to some common pet medication, knowing your dog's genetic makeup is one way to ensure your pet receives the best care possible for his or her breed. Visual breed identification isn't completely accurate, in fact visual breed identification is only accurate 25% of the time. To ensure the most accurate screening possible make sure your dog isn't sharing any food, water or toys with another dog before swabbing for the sample.
Wisdom Panel 3.0 offers a variety of benefits to pet owners. The test can be taken conveniently at home and mailed off for results which are received after approximately 2-3 weeks. In addition to testing for the MDR1 mutation the test provides owners with a complete ancestry of their pet (back to the great grandparent level). The information provided by the DNA test allows owners to develop a breed specific training program (a training program that works with the dog's natural instinct yields quicker results), helps determine a dog's healthy size/weight and most importantly helps owners to screen for breed specific health problems.
Wisdom Panel 3.0 in Arizona:
Swabbing your dog's cheek for a DNA sample is designed to be easy. However, for those of you located in or near Scottsdale, Arizona there is a Holiday Pet Festival on December 5th. The festival is a great place to get your pet's swab sample taken and receive a discounted rate on the DNA testing service.
For more information on Wisdom Panel DNA testing check out the Website, Facebook, Twitter, Instagram or Pinterest pages. To order a Wisdom Panel 3.0 DNA Test for your dog click here!
---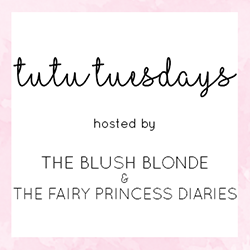 There are just a few rules we ask you follow to join in on Tutu Tuesdays:
1. Please follow both Kristin and I your lovely hosts, on Instagram and/or Bloglovin.
2. Link to your specific post, not your blog's main page.
3. Grab our super cute button or share a link to Tutu Tuesdays in the post you are linking up so everyone can know about the party!
4. Have fun and mingle with other bloggers that have linked up! Like I said we want everyone to make new friends!
P.S. Don't forget to sign up for Tutu Tuesday Secret Santa, we would love to have you in on the fun! <3

***Disclosure: This post is sponsored by Mars Veterinary Wisdom Panel 3.0. Thank you for supporting the brands that support The Fairy Princess Diaries.