I cannot imagine a better way to celebrate Tutu Tuesday than sharing my fabulous blog date with my blog friend (turned real life friend) Caroline. Saturday morning I trekked from Napa Valley to San Francisco to meet up with my long time blog friend. I have always been super inspired by the way Caroline can narrate ordinary life and articulate her memories so beautifully (you MUST read her blog for yourself if you don't already).
For the first part of our afternoon we enjoyed brunch at the loveliest spot by the bay. The sun was shining and though it was November it felt like the most cheerful spring afternoon. Of course it helped that we had an entire bottle of champagne and a carafe of orange juice to split between the two of us. I always worry before meeting someone new from the internet world (#SocialAnxiety) that it will be awkward, or that I will be weird or that I will just want to go home the entire time but won't know how to leave. Though my fears have been realized in the past (the joys of Tinder) my anxieties could not have been any further from reality in this instance. From the very moment I met Caroline I couldn't believe we hadn't met up sooner!
I loved hearing about Caroline's real life, in person, but was amazed by how much we already knew about each other. It felt SO amazing to be able to talk about blogging in real life with someone who doesn't think my social media obsession is borderline insane. Plus Caroline totally understood my obsession with taking photos and was so great at documenting our entire day.
After our delectable seaside brunch we hopped in Lyft and spent some time window shopping in Cow Hollow (& yes, I totally just had to pop over to Caroline's blog to confirm the name of the area because I completely forgot). I adore the charm of San Francisco. Though I love Seattle and do not plan on moving any time soon I've always considered San Francisco as a potential future home. I love that San Francisco is a little sunnier than Seattle, offers so many delicious (vegetarian friendly restaurants) and is so close to my family in Napa Valley. My adventure with Caroline made me love the city (and its residents) even more.
We just had to stop and instagram ourselves by the instafamous coffee shop with the Pineapple wallpaper. I definitely felt trendy though the baristas were laughing over our mini photo shoot. It's #BloggerLife, don't judge! As we sipped our lattes we wandered down the street perusing flower shops, cute boutiques and eventually found ourselves in the sweetest stationary store. Caroline and I bonded over our mutual love of whimsical paper goods and I indulged in a few cute new products (I need a souvenir from San Francisco right?).
Oh and I needed a few more souvenirs so we had to stop by Lush and smell all the yummy smells. We both realized how dry our skin has been lately due to the changing of the seasons (and definitely partially due to air travel for me). The lovely lovely man working at Lush was happy to help us find soothing and moisturizing face masks to help make our skin smell like heaven and feel like butter (more details on the exact products in a post to follow).
Time flew by and I swear I blinked and it was time to head back to Calistoga. No! I didn't want to leave just yet. Couldn't my wonderful fairytale blog date go on forever? My first day with my new (real life) friend Caroline will certainly not be the last. I can't wait to visit San Francisco and see Caroline again and of course I am already brainstorming fun girl day activities in Seattle (more mimosas are DEFINITELY a must).
Check out Caroline's eloquent account of our day together (yes…I stole all of her photos but I promise she let me, hehe).
Have you ever met a blog friend or internet friend in real life? How did it go? I hope all of you pretty peaches had a lovely weekend.
---
Welcome to Tutu Tuesdays a linkup with
The Blush Blonde
and 
The Fairy Princess Diaries
!  Link-up whatever you'd like and make sure to do a little mingling – our goal here is to create a community of bloggers where we can all connect, find new blogs, and support one another.  We 
love 
new friends, supporting other blogs, and meeting fellow girl bosses!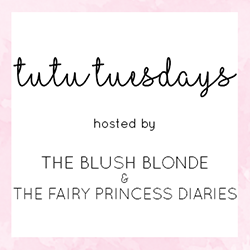 There are just a few rules we ask you follow to join in on Tutu Tuesdays:
1. Please follow both Kristin and I, your lovely hosts, on Instagram and/or Bloglovin.
2. Link to your specific post, not your blog's main page.
3. Grab our super cute button or share a link to Tutu Tuesdays in the post you are linking up so everyone can know about the party!
4. Have fun and mingle with other bloggers that have linked up!  Like I said we want everyone to make new friends!