October is Domestic Violence Awareness month. Normally I don't jump on board promoting national months or national lipstick day or national cookie day or whatever, not because I don't support breast cancer or cookies or animal rights, I do! I am all for these national months if they really raise awareness and generate income for the proper charities, I just don't personally partake-I already know what I care about and choose to support those causes how I can year round. To each their own, right?
Throughout the month domestic violence awareness has been weighing on my heart and I've been pushing it out somewhat selfishly. I've been pushing it out by thinking about pumpkin spice lattes and dark vampy lip colors and corn mazes and cute duck boots for tromping through the mud, but because these things are relatively trivial the deeper, heavier thought keeps resurfacing.
I think because I have my own domestic violence, physical and emotional abuse story, I feel compelled to say something. When I first freed myself from the toxic relationship I wrote and talked about relationship violence often. I talked about it to cope, I talked about it so people would know (and I therefore felt protected and thus safer) and I talked about it because I felt like emotionally I could and therefore I should. Eventually I stopped talking about it so much because mentally I felt as if I had mainly healed. I didn't want to be "that girl" who constantly was rambling on about her bad relationship because by becoming that girl I felt as if the experience was somehow invalidated. So I don't want to whine. I don't want anyone reading here to feel bad for me. I just feel as if I should share my story just to highlight a point that I think a lot of us don't realize.
Anyone can become a victim of relationship abuse.
I used to hear about abused women and feel sorry for them (of course I still feel sorry for them). I would feel pity for these women but in my mind I never thought that sort of treatment could ever happen to me because I'd been raised in a relatively progressively thinking environment and I knew right from the start violence was unacceptable. So I sat silently, listened to stories of abuse, looked over the statistics and nodded sadly at all the right times, pitying the women who couldn't seem to muster up the strength or support to liberate themselves.
My Story of Abuse
Then something strange happened, strange for my life anyway, I broke up with my humanitarian of a boyfriend whom I had dated for four years and moved to a new city. I didn't realize it at the time, but I was really vulnerable. I hadn't been without the emotionally intimate companionship a relationship offered for my entire adult life and I didn't know how to process that sort of emotional loss. I fell into a new relationship and things got serious so fast.
I should have seen that my new partner was too excited about me too early on. I should have realized his claims of love and devotion were too much too soon. I should have rolled my eyes at his constant compliments and accolades. But I was twenty years old, feeling lonely and rejected and frankly it just felt really good to feel pretty and accepted.
Early on my boyfriend at the time showed signs of possessive behavior, I'd never experienced a possessive boyfriend before so I didn't know how to process it. He didn't like the clothes I wore, yet I'd worn the same 'skimpy' outfits when we first met…I couldn't reason why he hadn't disliked them then and suddenly did now. It became an argument every time I wanted to hangout with my friends or go out and I gradually pushed away my few male friends because it was just too difficult to see them. There was clearly a jealousy issue, I just figured it would go away overtime as I demonstrated that I was loyal and trustworthy! I reasoned that the "little issues" we had were worth it because of all the good parts of our relationship.
Without going into too much detail, the jealousy and insecurity issues never went away. The possessiveness early on was only a foreshadowing of the physical and emotional violence to follow. I would like to say that the worst part was a bit of physical pain in the heat of arguments but the emotional scarring and isolation from people I cared about was far worse. I felt like I was trapped in a snow globe; to everyone looking in it appeared as if I had isolated myself into my own happy little world, but I felt cold and suffocated, stuck in a tiny box I didn't know how to break through from.
I say that anyone can become a victim of relationship abuse because it doesn't always start with your boyfriend coming home drunk and beating you until your neighbor calls the police and you're sent to the emergency room. Not all abusers are stupid or characterized by a lack of control. My abuser was incredibly manipulative, a skinny guy who loved dogs, who was popular in high school and was studying photography. He didn't start off "so bad" that I wanted to flee, he did just enough that at first I could forgive it. He did just enough that I could reason "my friend's boyfriend doesn't like it when she goes out either…" or "sometimes couples just fight, who could possibly know what really happens?". He would tell me he was "working on his jealousy" (though never admitting that this was brought on by his own insecurity, it was either always pinned on my 'promiscuity' or that of his ex girlfriends). I believe a lot of people who accept abuse are the kind of people that regular, kind-hearted people want as friends, I say this because we give people second chances. When my ex promised he was working on himself I couldn't not give him a chance because I believe in working to become a better person. I believe in forgiveness.
It took two years, a neighbor calling the police, countless tears and my abuser hurting someone else I cared about before I was able to step back and see the situation with untainted eyes. I wasn't just terrified, I was enraged.
Two years felt like a lot of wasted time for me, and for awhile I was really angry at myself for letting me "waste" my last two years of college so miserable. My grades had suffered, my social life had suffered, I was depresses and anxious. I was so angry at my abuser but more than that I was angry at myself for not running from such a treacherous relationship sooner.
I'm not a weak person and I've never been the sort of girl that 'just goes with what her boyfriend wants'. In fact, I think my sassiness, strong-willed nature and honestly bossiness is one of the main reasons no one would have suspected I was being abused. I had no trouble calling my ex out on a lie in public (he was a pathological liar), I would not just passively acquiesce when he tried to keep me from going to parties with my friends…I would argue and fight until I had no energy left to move let alone dance. Even now (in my healthy relationship) I'm very sassy, I'm independent…I've been called high maintenance (a princess). I think it was this part of me that made it difficult to see that I was so suppressed.
Anyone can be the victim of abuse.
---
A message for those who think they might be in a physically or emotionally abusive relationship:
I consider myself incredibly lucky for many reasons- my abuser never seriously injured me (though he often pulled out a gun in the heat of an argument), my friends were very supportive when I came forward and that I was able to escape my personal prison after just two years. I do not think my story is even close to the worst one out there, but I still believe it is my responsibility as someone with a voice and a small platform to share it.
If there is anyone out there unsure if the suffocation and isolation they feel in their relationship is normal or healthy or dramatic or whatever-I want those people to know they are not alone. I want those people to know that any form or physical or emotional abuse, any isolation or suffocation of who you are and who you want to be is not acceptable. You are more, you deserve more. I can promise you the love you are experiencing is not love. I know it's cheesy but real love should make you more of who you are, it shouldn't drain and erode your character.
If you're best friend won't listen to you and your parents love your boyfriend and you don't have someone you feel safe talking to, I know it might not mean much but I am 100% willing to listen. If you're mentally saying "Jordyn, I don't need you to listen because you're not a therapist and I need actual help" I want you to know there are real resources out there, check out this International Guide for Domestic Violence and Abuse.
---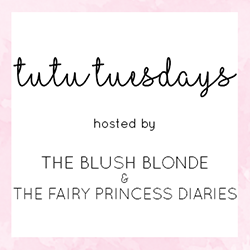 Welcome to Tutu Tuesdays a new linkup with
The Blush Blonde
and 
The Fairy Princess Diaries
!  Link-up whatever you'd like and make sure to do a little mingling – our goal here is to create a community of bloggers where we can all connect, find new blogs, and support one another.  We 
love 
new friends, supporting other blogs, and meeting fellow girl bosses!
There are just a few rules we ask you follow to join in on Tutu Tuesdays:
1. Please follow both Kristin and I, your lovely hosts, on Instagram and/or Bloglovin.
2. Link to your specific post, not your blog's main page.
3. Grab our super cute button or share a link to Tutu Tuesdays in the post you are linking up so everyone can know about the party!
4. Have fun and mingle with other bloggers that have linked up!  Like I said we want everyone to make new friends!