Earlier this year I joked that I wanted to have a career as a "Breakup Coach". Breakups are insanely difficult to cope with. From the initial shock of "losing" the person you love to the gut wrenching feeling when you wake up each morning and realize it wasn't all just a bad dream-breakups are no bueno. For whatever reason I'm sort of passionate about breakups. I'm passionate about how much breakups suck and I'm passionate about using these difficult times as learning experiences and growing as much as we can from them (read more about channeling pain into purpose here).
I've been through a handful of breakups and I can't say I've really gotten any better at them. When my heart breaks I still can't eat for a week straight, I still cry myself to sleep, I still desperately check my phone every five minutes to see if my ex-lover called or texted. I don't know if we can ever erase the pain of a breakup, I think we all need time to grieve. Over time I have learned a few lessons from heartbreak, though I'm not currently experiencing the pain of a breakup I can recall the pain. Though I wouldn't wish heartbreak upon anyone I do think it is an emotion we should all experience at some point. I don't want you to go through it but I know we're stronger because of it! We can learn a lot from having our hearts broken, here are a few of the lessons I've found most valuable.
The Importance of Friendship
After going through a breakup we tend to lean on our friends more than ever. From midnight "I feel so alone" phone calls, to needy non-stop text messages to a month straight of girls' nights, it's normal to feel ultra clingy after a breakup. The best friends will understand the pain of heartbreak and attempt to be there for you as you heal. Whether you're the heartbroken friend who needs a constant supply of Ben & Jerry's or the shoulder to cry on, remember to be the best friend you can be. Most of us will see both sides of a breakup, try not to get too annoyed with your needy post-breakup friend, you may be that friend someday too!
Free time is Amazing (& Lonely)
One of the strangest realizations post breakup is just how much free time you have. Even the busiest Type A girl finds herself feeling lonely when the time she used to spend with her significant other is suddenly time she has to herself. Initially you will need to use this time to grieve (no one wants moaning Myrtle in their bikram class) but as time goes on you'll realize you need to fill the time with something more productive. The best thing you can do for yourself after a breakup is stay busy! Sign up for a kickboxing class, say yes to that babysitting gig, join a study group or volunteer. The less time you have to sulk, the happier you will become with your new life.
You really are one Sexy thing (;
Once you've moved past the grieving stage and onto the "I want to flirt with everything that breathes" stage you'll realize how many looks your single self is getting. Whether or not you dive head first into a rebound relationship is a personal decision (there are pros and cons) but feeling noticed is harmless. Head out for a girls night in your sassy new skirt with your great new haircut and super hot single girl bod (those kickboxing classes have paid off) and strut your stuff. Boost your ego by flirting with a cute stranger and ending the night at home with your besties. Just because you aren't ready to move on doesn't mean you shouldn't get out and enjoy feeling young, single and fabulous.
Time & Space are necessary for Healing
The biggest myth we fall for during a breakup is the idea that we can be friends with our exes immediately. Letting go of someone you've shared such an emotionally intimate relationship with can feel like abandoning a piece of your heart, sadly this time and space is crucial. Very few couples can go from sharing a bed, toothbrush and life plan to "just friends" overnight. Though cutting yourself off from your ex seems like the worst thing in the world, yet, quitting cold-turkey is the best way to heal. Take a month (or more) to rebuild yourself after having your heartbroken. If you still want to remain friends with your ex integrate him/her back into your life slowly.
You are Complete on your Own
Perhaps the most valuable lesson we learn after completing the grief cycle of a breakup relates to our wholeness. No matter how much we loved and lost, we can heal. No matter how shattered our happy ending appears we learn to piece together a new one. You are complete on your own, no matter how damaged or broken or bruised you feel. Being complete on your own means you can survive. You can buy your own peonies, you can feel loved and pretty and valuable alone and that is a beautiful feeling.
Have you been "lucky" enough to go through a breakup that taught you about relationships? What did you learn about love? Did you learn anything about yourself?
---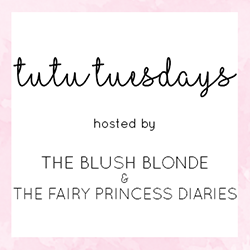 Welcome to Tutu Tuesdays a new linkup with
The Blush Blonde
and The Fairy Princess Diaries!  Link-up whatever you'd like and make sure to do a little mingling – our goal here is to create a community of bloggers where we can all connect, find new blogs, and support one another.  We 
love 
new friends, supporting other blogs, and meeting fellow girl bosses!
There are just a few rules we ask you follow to join in on Tutu Tuesdays:
1. Please follow both Kristin and I, your lovely hosts, on Instagram and/or Bloglovin.
2. Link to your specific post, not your blog's main page.
3. Grab our super cute button or share a link to Tutu Tuesdays in the post you are linking up so everyone can know about the party!
4. Have fun and mingle with other bloggers that have linked up!  Like I said we want everyone to make new friends!