I think as women we place a lot of our identity in our hair. It can be really difficult to feel beautiful when we're having a bad hair day, need our roots done or cut our hair a few inches too short. I know because I've experienced pretty much every hair disaster imaginable! There's that time I had dreadlocks for three days before realizing they were totally going to clash with my perfect prom dress, or the time I dyed my hair fire engine red with skunk-like blonde streaks in the front…or the time I thought I could totally pull off a perm. Let's just say rainbow braces wasn't the only thing I had going against me in middle school. I've faced a lot of bad hair days, however in the process I've discovered the hairstyles that really help me to feel confident.
In 9th grade I started pulling the front of my hair back into a simple braid (like the one pictured). I'm not super creative or talented when it comes to styling my hair, but a simple braid (or two) is easy and I realized this quick look complimented my girly-boho style. Since age 14, a side-braid has been my signature go-to hairstyle.
I also discovered (through trial and error) that I prefer my hair long. Unfortunately, it's difficult to maintain healthy long hair when you curl it, bleach it and experiment with it as often as I do. To obtain Rapunzel-like locks I've relied on clip-in extensions. Originally, I learned about extensions from one of my best friends in my sorority. I assumed extensions would be way too difficult for someone as challenged in the beauty department as me (I didn't even learn to put my hair in a proper ponytail until 9th grade). Little did I know clip-in extensions are surprisingly simple, anyone can use them, the process just takes a little while to perfect!
I first used hair extensions from a beauty supply store my sophomore year of college. GAME CHANGER! I was suddenly able to have the long Disney Princess hair I wanted without sacrificing the health of my natural hair. My first set of extensions were not the best. Don't get me wrong, I completely loved them for their ability to give me longer and thicker hair but the quality was nowhere near ideal. Recently I opted for an updated set of Remy extensions from Irresistible Me.
My new 18″ 200 gram extensions in honey blonde are the perfect match for my hair color. The package came with 10 clip-in pieces which was more than enough to give me the luscious Blake Lively hair I desired! The comparison between my first set of extensions and the Royal Remy extensions I received from Irresistible Me is day and night, Irresistible Me wins without question. The Irresistible Me hair extensions are thick, soft, sturdy and seamless match to my hair color now.
I don't wear extensions every day but I do consider them one of my MUST HAVE beauty supplies. Even if your hair is already long it is fun to thicken it up with a few extensions here and there for more intricate hair styles. For a natural look that blends seamlessly I prefer loose beachy waves. I received numerous compliments on my outfit and extensions on Saturday (when these photos were taken).
I know the world of hair extensions can be intimidating if you have never tried extensions before. If you have any general questions about extensions I'll be sharing advice and answers next week (along with before and after extension photos to give you a clear idea of the impact). Please leave any hair extension questions on this post and I'll do my best to answer! Don't forget to checkout the Irresistible Me website, the blog and videos section answer many common questions about extensions.
***For the sake of transparency and authenticity I will note these extensions were given to me as a gift from Irresistible Me in exchange for an honest review. I did not receive compensation beyond the product for this post, all opinions are 100% genuine, I pinky swear! ***
---
There are just a few rules we ask you follow to join in on Tutu Tuesdays: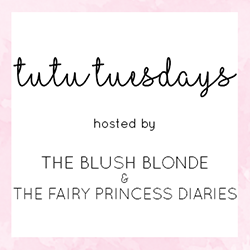 1. Please follow both Kristin and I, your lovely hosts, on Instagram and/or Bloglovin.
2. Link to your specific post, not your blog's main page.
3. Grab our super cute button or share a link to Tutu Tuesdays in the post you are linking up so everyone can know about the party!
4. Have fun and mingle with other bloggers that have linked up!  Like I said we want everyone to make new friends!