Lemon Drop Boutique recently sent me this crystal teardrop necklace in royal blue and gold, the minute I saw the necklace I knew I wanted to pair it with the DVF wrap dress I found thrifting in August.  I love the look of emerald and navy together, in my opinion it is an unbeatable combination. Wrap dresses scream "classy & professional!" while still highlighting your waist and giving you a super flattering silhouette.
I haven't mentioned it, but I've been interviewing at a few companies over the past few weeks. My current position is freelance which offers quite a few benefits (working from home), however I want something a bit more permanent. Luckily, my freelance position isn't going anywhere so I don't feel rushed to settle for a job that isn't right for me. As a new college graduate, big girl interviews can be intimidating! I used to be the girl who would rush out and buy a new dress for every interview (which was fun but killed my bank account). Now I have established a go-to interview outfit so I can spend more time researching the company history and polishing up my resume and less time trying on every single item in my closet!
Interview attire varies greatly by industry! The outfit I would wear to interview for a marketing position at a wine label (see outfit pictured) versus the outfit a woman interviewing for a legal position are undoubtedly different. Keep in mind my suggestions are based off of my experience and research and are meant as a general guideline. If you know your industry demands a pink boa and red sparkly flats, by all means adorn yourself in feathers, sequins and glitter!
My Dos and Don'ts of Interview Attire
Do wear your hair in a simple and natural style. I don't always wear my hair up for interviews (though a ponytail or bun isn't a bad call) but I do make sure to show up with an undistracting style. I save my Ban.do hair accessories and messy Victoria's Secret waves for any other time. When in doubt opt for soft curls, straight hair pulled out of your face with a simple headband or clip (like this one) or a ponytail.  My headband is sparkly which is okay for many of the positions I applied for but may not be appropriate for more formal offices.
Don't show up with chipped nail polish! Depending on the office and industry acceptable shades will vary. Always choose a something understated, save sparkly pink for a day at the beach or night out with friends. Say no to nail art this time at the salon, even if you love it! Opt for a neutral shade like blush or your natural nails with clear polish. If you go with a bolder color make sure it looks clean and doesn't draw too much attention on its own. In these photos I am wearing "Mischievous" which sounds more inappropriate for an interview than it actually is (;
Do pick a comfortable outfit. Stumbling around the office in six inch heels that squeeze your toes and make you look like a newborn baby deer just learning to walk won't do you any favors. I know my legs look better in high heels than flats, but I also know I feel more confident walking on unknown surfaces in ballet flats. Invest in a pair of comfortable heels or flats (these Tory Burch flats are a great neutral), you won't be sorry!
Don't show too much skin. I am all for mini skirts, off the shoulder tops and low backs, however a job interview isn't the place to show off the hours of sweat you have put in at the gym. I think most of us know not to show up to an interview in a crop top (though I love them) but it's worth asking yourself if your skirt is too short or neckline is too low. If you don't know the office dress code it is better to err on the conservative side than to show up feeling like you're dressed like a backup dancer in a rap video. I love J.Crew factory for inexpensive, office friendly outfits.
Do choose colors that compliment your skin tone. Though I love hot pink and bright yellow, my hair color and skin tone look much better in shades of blue and green. If you choose to wear color (over black or gray) take some time to select a color or pattern that works to enhance what you have going for you naturally. An interview isn't generally the time to try mixing patterns, if you choose a patterned shirt, go for a neutral or solid colored pair of pants. If you choose a pencil skirt like this one pair it with a cream sweater and simple shoes. Since I picked a dress with a butterfly pattern, I tried to tone it down with a simple pair of gold flats and would wear a navy jacket.
Don't wear too much makeup. In general I tend to lean towards fairly natural makeup (see my makeup routine here) so I don't change my routine too much for interviews. I know everyone has different levels of comfort when it comes to makeup, if you need to contour your face to feel confident I say "go for it". Just make sure not to try anything too bold (blue eyeliner, fake eyelashes, fuchsia lips) on the day of your interview, unless you are interviewing specifically for the beauty industry. Most employers don't want their employees to show up with full stage makeup with the exception of Sephora & MAC employees.
Do accessorize! Just because you're at an interview doesn't mean you need to abandon all sense of fashion, the key to accessorizing for an interview is not to wear anything too over the top or distracting. Wear a necklace but perhaps skip earrings or wear a cute pair of pearl studs and a nice bracelet. I wore a statement necklace but opted not to wear the matching earrings even though I think they would look gorgeous for a night out. This layered chain necklace would look great with a classic button up blouse and pencil skirt while these seafoam gem studs would add a nice touch to a stiff blazer! Oh and one last Don't, don't forget to check out Lemon Drop Boutique for cute accessories for all occasions. Whether you want to stand out on campus, add a statement piece for going out, or accessorize for an interview, Lemon Drop Boutique has stylish and affordable pieces.
Check out these other DVF wrap dress options (I want them all):
---
Thanks for reading, please share your interview apparel tips as well! Don't forget that today is Tutu Tuesday which means Kristin and I are linking up with you guys! You don't need to blog about tulle skirts or ballerina buns to join in on the fun, anything whimsical or girly will do, the goal of the link-up is to make wonderful new blogger friends.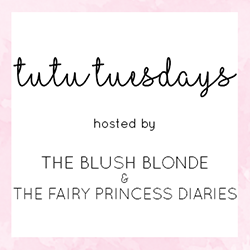 There are just a few rules we ask you follow to join in on Tutu Tuesdays:
1. Please follow both Kristin and I, your lovely hosts, on Instagram and/or Bloglovin.
2. Link to your specific post, not your blog's main page.
3. Grab our super cute button or share a link to Tutu Tuesdays in the post you are linking up so everyone can know about the party!
4. Have fun and mingle with other bloggers that have linked up!  Like I said we want everyone to make new friends!