Yesterday while working away and shoving morsel after morsel of Dove chocolate into my mouth I stumbled upon a piece of inspiration! Strangely enough my inspiration was scrawled across the crinkled blue foil that initially encapsulated the milk chocolate I was now allowing to melt in my mouth: "Treat Tuesday like it's Friday" it stated. Though I usually toss my little sheets of foil packaging into the trash can (or more realistically into the bottom of my bag) I couldn't bare to part with the little nugget of wisdom just yet.
Treating Tuesday like a Friday is not something I do very often. On Tuesdays I find myself rolling out of bed begrudgingly, sipping coffee hazily as I drag my feet through my morning routine. On Tuesdays by lunch my eyes are droopy. On Tuesdays I vow to stay in and watch reruns of Gossip Girl and paint my nails- a relaxing evening but hardly worth counting down all week for. There's absoloutely no way I'll be throwing on a body-con dress and singing karaoke this evening, however I believe a Friday mentality can shed a bit of light on my day! I've brainstormed a list of several easy ways to transform your Tuesday mind frame into a bit of Friday positivity:
Wake up an hour earlier and spend the morning leisurely sipping a yummy latte and reading your favorite magazine.
Schedule an early bonfire on the beach with a group of friends, a great excuse to break out that blanket scarf and super soft sweater.
Test out a flirty drink recipe and sip it solo in the bathtub. Just because your boyfriend has to work late doesn't mean you can't celebrate with bubbles!
Surprise your boyfriend with an impromptu date night. I vote for a picnic with hot apple cider and cinnamon sticks!
Have your bestie over for at home facials and reruns of Sex and the City. Just because you can't be fabulously rich living on the upper east side shouldn't mean you can't feel like you're fabulous from the upper east side!
Put on that new little black dress and head to a new restaurant for dinner, just because it's Tuesday doesn't mean you're stuck eating left over takeout.
The options for spicing up your Tuesday (or Wednesday, or Thursday) are really endless! I'm guilty of getting dragged down into a mid-week slump occasionally but my chocolate kindly reminded me every day is reason enough to be happy. Do you have any suggestions for simple ways to transform your midweek mentality?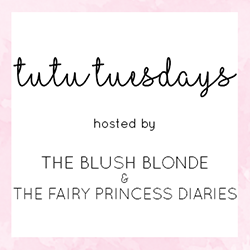 Today is the third ever Tutu Tuesday with Kristin and I! Grab a button and join the party, the only real requirements are that you spread the positivity and make new blogger friends<3