Good morning guys! Welcome to  our first ever Tutu Tuesday! Today I am sharing an eclectic look I put together for prancing around the park with my crazy little puppy. Have you guys ever tried to pose for a photo shoot with a puppy? Pierre has to be in every single frame but NEVER stops moving (or attacking my feet)…supermodel he is not.
This outfit is the definition of my "Fall Uniform" (a look I can easily throw together while still looking put together and polished). September 1st hit and it officially feels like fall in Seattle, it's windy and rainy and overcast and gray! I'm usually such a summer girl, I dread the cooler weather but this year I'm embracing it. Not only does fall mean cute boho fashions and riding boots (my fave) but it begins the countdown to my favorite holiday (Halloween).
My go-to outfit for a breezy fall day looks a lot like this: A breezy boho dress, my favorite pair of riding boots and a hat to keep my hair from hitting my face in the wind. I want to look cute without prancing around in heels that I know will immediately get ruined by the Seattle rain (which can show up unannounced at any moment). I just got this Strike You Blue dress from the cutest online boutique, Sweetest Stitch.
Sweetest Stitch has so many stylish pieces for Fall! I'm a fan of all things feminine and whimsical-y girly pieces that work well for both the work day or a day out adventuring with friends. Sweetest Stitch has you covered for every fashionable occasion:
For going out to drinks with friends (Just add cute booties)!
To wear to work (with nude ballet flats).
When you're trying to emulate Taylor Swift (aka all day every day).
On a cozy date night watching Netflix (ice cream sundaes in bed pretty please).
Fall is seriously my favorite season to dress for! Burgundy lipstick, riding boots and layers make my heart skip a beat. I love that Sweetest Stitch has so many feminine pieces that work well transitioning from work to dinner with friends or from class to happy hour!
Do you have a go-to uniform for this cooler time of year? Have you shopped at Sweetest Stitch before? If not be sure to check it out and find your easy and stylish uniform for fall!
---
Join the party and linkup with Kristin and I!
There are just a few rules we ask you follow to join in on Tutu Tuesdays:
1. Please follow both Kristin and me, your lovely hosts, on Instagram and/or Bloglovin.
Kristin: The Blush Blonde  |  Bloglovin'  |  Instagram
Jordyn: The Fairy Princess Diaries  |  Bloglovin'  |  Instagram
2. Link to your specific post, not your blog's main page.
3. Grab our super cute button or share a link to Tutu Tuesdays in the post you are linking up so everyone can know about the party!
4. Have fun & mingle with other bloggers that have linked up!  Like I said we want everyone to make new friends!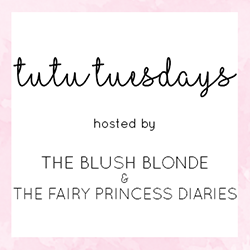 ​